News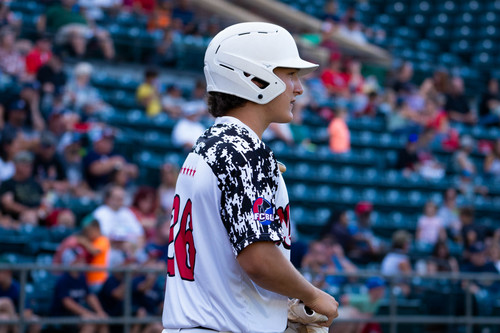 After 62 games in the books, the stage was now set for the 2022 Futures League playoffs. After a one-year absence, the Silver Knights were back in the postseason as the three-seed to take on the second seeded New Britain Bees. With New Britain making their postseason debut, the Knights made sure to spoil their welcoming party.
Nashua took game one of the FCBL semifinal 11-3, now one game away from the championship. Two five-run innings from the Knights in the third and sixth launched their 11-run assault, with Northeastern's Aiven Cabral shining in his game one start.
Back-to-back innings of leaving runners in scoring position started off Nashua's night, as the Knights season long thorn in their side appeared once again. Starting wIth all smoke and no flame, Amherst's Jack McDermott ignited Nashua's offense with a two-run shot in the third.
Coming off McDermott's homer, the Knights pushed the tempo with RBI singles from WPI's Kyle DeRoma and Salve Regina's Matt D'Amato gave Nashua a 5-0 lead after three frames.
Nashua would post two scoreless innings after the big third inning, until McDermott came up in the sixth. After two Knights got aboard, McDermott once again struck with his second homer of the night. McDermott's three-run shot moved him to five RBIs on the night, with the Knights now up 8-1. Nashua wouldn't stop there, as Vanderbilt's Ray Velazquez knocked a two-RBI single to move the Knights to double digits. After six, it was 10-1 Nashua.
On the bump for the Knights, Cabral would deliver in his first taste of the postseason. Not only would Cabral strike out a season high twelve, only giving up two earned runs in six innings of work, but those twelve Ks also set a post-season record for the League. With a surplus of run support behind, Cabral and the Nashua offense produced a perfect recipe for a game one victory.
Clark's Zach Gitschier and Worcester State's Cole Glassburn came in and finished the job for Nashua, taking game one with a final score of 11-3. Behind the lighting rod of a bat from Jack McDermott and stellar pitching from Aiven Cabral, Nashua now has a chance to punch their ticket to the championship on their home turf.
Game two is set for Tuesday, August 8th at 6:00 PM at Historic Holman Stadium. Check out nashuasilverknights.com for information on tickets.