Bullpen Buffet Outings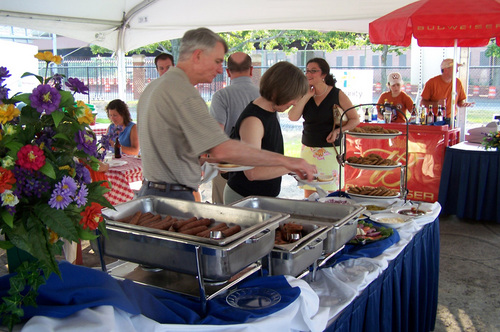 Bring your company, little league, or community organization to Historic Holman Stadium and enjoy a pre-game picnic under our right-field tent. It's a fully-catered night at the ballpark for 15 or more of your friends and colleagues, and it's all-you-can-eat! Our menus range from burgers and Holman Franks to chicken tenders and french fries. Pick your favorite promotional night, and we will take care of everything else. Your outing will begin 30 minutes before first pitch. Water and soft drinks are included, and alcohol is available for purchase at concessions. In addition to your picnic, your group will be seated together in reserved box seats for the game.
Call 603-718-8883 or email [email protected] to organize your picnic outing today! Please note: To book a buffet outing, the outing must be arranged through a Silver Knights representative in advance of the game.
All prices include game ticket:
THE BULLPEN BUFFET - $30 per adult / $20 per child (12 and under)
Grilled Angus Burgers
Grilled Jumbo Holman Franks
Grilled Chicken Sandwiches
Grilled Veggie Burgers
Chicken Tenders
French Fries
Pasta Salad
Potato Salad
Chips
Soda and Water