News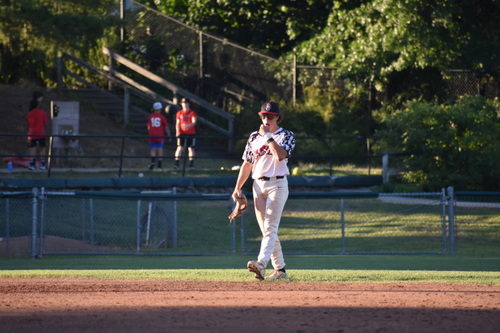 Coming off a night to forget, the Silver Knights headed down to Norwich, Connecticut for their third to last game of the regular season. Norwich and Nashua were set to face off for the final time in 2022, as the Knights tried to get back in the win column on Friday evening. While things didn't go quite as bad as Thursday's mercy rule loss, the Knights still had a tough day in the office in a 4-1 loss to the Sea Unicorns.
Norwich took their fourth victory against the Knights on Friday, winning the season series. An early attack by the Norwich lineup set up the Unicorns for the victory, including a three run second inning. Another quiet night from the Knight lineup wouldn't be able to overcome the early deficit.
Northeastern's Aiven Cabral would get the start for Nashua but with the playoffs lurking, the Knights limited him to only one inning to keep him fresh. Worcester State's Cole Glassburn would take over after Cabral's frame. After Cabral gave up a 1-0 lead, Glassburn would also succumb to the Norwich lineup.
Vanderbilt's Chris Maldonado would lead the charge for the Sea Unicorns, going 3-4 with two RBIs. Maldonado's biggest hit of the night came in Norwich's big second inning, bringing home two on a single to left field. Glassburn would give up three runs in his three innings of work, pinning the Knights in a 4-0 hole after two.
For Nashua, another call for some offensive production was sent straight to voicemail. With another night with only one run to show, the Knights compiled five hits on the night as it was not enough to stay with their opposition.
Nashua fell victim to another stellar pitching performance, this time at the hands of Eastern Connecticut's Bryan Albee. Albee went a strong seven innings, striking out three in his one run stifling of the Knights. WPI's Kyle DeRoma broke the potential shutout in the seventh, posting an RBI single.
Another lackluster performance from Nashua moves them to 32-29 on the year. While the Knights could be punting on these games with the postseason already clinched, Nashua's biggest opponent in the playoffs could be themselves. Inconsistency has limited the Knights, not knowing what kind of performance the squad will turn out. With now only two games left in the season, anticipation continues to build for an enticing FCBL playoffs.
Nashua will head to Pittsfield, Massachusetts for their last road game of the season. A 6:05 PM first pitch against the Suns on Saturday is set for the Knights second to last matchup of the regular season.