News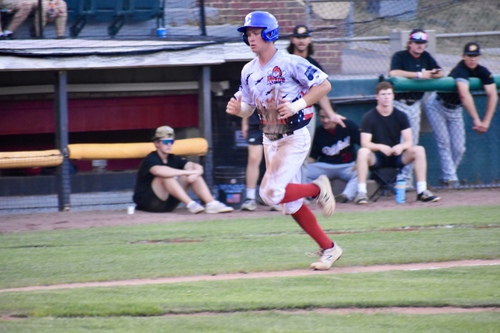 While Thursday's high temperatures dampened spirits at Historic Holman Stadium, the Silver Knights were still riding high after their playoff clinching victory the night prior. Trying to continue the momentum to help their playoff position, the Knights would be caught off guard as Pittsfield brought the heat.
Nashua fell 12-1 on Thursday, bringing their record to 32-28 and pushing them another step back from the second place New Britain Bees. A successful, competitive performance just the night prior now felt like a mirage as the Knights dropped their third straight game to Pittsfield in disappointing fashion.
Starting on the rubber, it was a tough night for the Knight pitching staff. Nashua's starter, Salem State's Brock Pare, only lasted two innings with three earned runs. Saint Anselm's Avery Mosseau would come in to try and turn the tides, but also fell victim to Pittsfield's lineup. Mosseau gave up three earned runs as well, with the next three Nashua arms out of the pen also giving up at least one earned run.
At the dish, things wouldn't be clicking either. While Colby's Brady O'Brien had a solid debut at the top of the lineup with two hits and a run, the rest of the lineup would go radio silent. Only three other Knight hitters posted hits, with seven of the nine Knights recording at least one strikeout. Nashua would find a way to avoid the shutout, as a Pittsfield error allowed O'Brien to come home to score in the fourth.
For Pittsfield, they turned Thursday evening into their own clinic. Explosive at bats in each frame, including home runs from Columbia's Anton Lazits and Penn's Cole McGonigal, boosted the Suns to a 10+ run performance. As Pittsfield showed out on offense, Hartford's Ryan LaPierre excelled on the mound. LaPierre went the complete seven innings for the Suns, striking out an impressive 10 batters with only one run on five hits. After once holding a 6-0 record against the Suns, the Knights have now gone 1-4 in their last five meetings with Pittsfield while getting outscored 21-8 in their last three matchups.
While a postseason bid is secured, the up and downplay from the Silver Knights as of late leaves their playoff positioning in question. Going 3-7 in their last 10, Nashua controls their own seeding destiny with three games to go. Striving to end their regular season on a high note, the Knights will head down to Norwich to take on the Sea Unicorns on Friday. First pitch is set for 6:30 PM.