News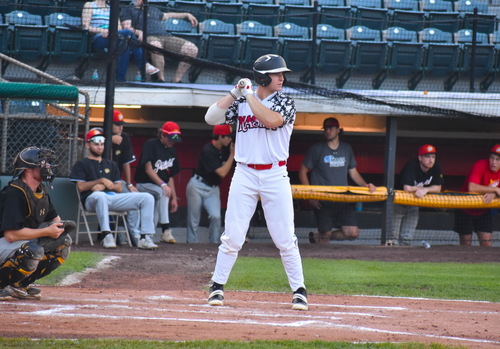 Coming off a successful weekend homestand, the Silver Knights sought to end their weekend with a third straight victory. Back-to-back wins on a walk off and mercy rule victory had the Knights loaded with momentum, but an afternoon trip to Westfield would quickly turn Nashua's wild ride of a weekend into some Sunday scaries.
Westfield, like what the Knights did to Norwich the day prior, mercied Nashua 13-0 in a shortened seven inning game. For Nashua, a once boisterous offense had gone stagnant with only four hits in the zero-run performance.
In the second inning, the Starfires would start up their offense in a two-run frame. Getting to Nashua's starter Kyan Bagshaw early, Westfield would jump out to the 2-0 advantage. Two innings later, the Starfires would begin their avalanche of runs.
A seven run fourth by Westfield stabbed through the heart of Nashua's chances, knocking Bagshaw out of the game in the process. Bagshaw left the game with four earned runs in three innings, with Clark's Zach Gitschier coming in to try and do what he does best in cleaning up messes and getting out of jams.
With the lead at 4-0, Nashua continued to struggle on the mound. A rare off outing by Gitschier showed that it might just be one of those days for the Knights. Four earned runs to Gitschier's name and another coming via Plymouth State's LT Pare coming in later in the inning pushed the Westfield lead to 9-0 after four.
Nashua showed few signs of life, as Westfield brought their best. Trinity's Michael Aceto pitched a "complete" game shutout, throwing seven scoreless innings. Aceto, Westfield's clear ace, racked up his fifth win of the season with a 3-0 record against the Knights. At the plate, Seton Hall's Patrick D'Amico had a big day with two hits and three RBIs. Holy Cross's Brendan Jones and St. John Fisher's Brian Norsen both posted two RBIs in Westfield's barrage of scoring.
Westfield would add four runs before the seventh, giving them enough for a mercy rule victory. As Nashua failed to post a run and try to break the 10+ run lead, Westfield took the seven inning 13-0 victory.
A tough day across the board for Nashua brings them to 31-25, falling back down to third place in the FCBL. Leapfrogging back and forth with New Britain, the final week of the regular season will be pivotal for the Knights and their playoff position.
After a day off on Monday, the Silver Knights will head to Pittsfield on Tuesday to take on the Suns in a double header. First pitch for game one is scheduled for 5:05 PM.