News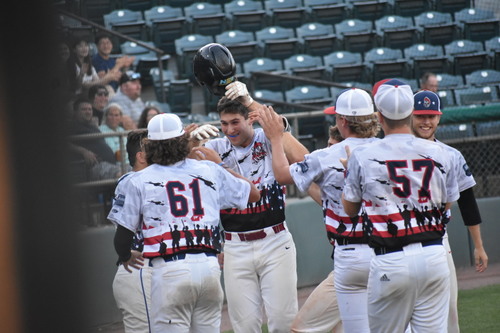 Another day, another big outing from Nashua's lineup. After a short dry spell for the Knights lineup, Nashua notched their second mercy rule victory of the season in their fourth 10+ run performance in the last two weeks. Looking to gain separation from New Britain for second place, the Knights sought out another big victory in front of the Holman faithful.
Northeastern's Aiven Cabral took the bump for the Knights, coming off a win against Brockton just a short week ago. Cabral once again got the job done, only allowing one run with six strikeouts in five innings. A potential pitching duel was shaping up, but a hard-hit ball back at Eastern Connecticut's Sean Wininger forced him to come out of the game. In a moment that brought Holman to a standstill, the Silver Knights and all of Holman Stadium applauded Wininger as he came off the field and wish him the best in his recovery.
A tough injury to Norwich's starter threw a wrench in the Unicorn's plans, having to go to the bullpen early. Throwing cold arms into the mix, Nashua started adding on runs in the second. After previously adding one in the first, a leadoff triple from Assumption's Nico Galeazzi started off the frame with a bang. Nichols' Johnny Knox, the hero from Friday's walk off thriller, delivered a triple of his own to bring in Galeazzi. Nashua would go on to add two more runs, bringing the score to 4-0.
As the game moved along, it became clear that Nashua was going to run away with this one. Another three-run inning in the fourth brought the lead to seven, highlighted by a two-RBI double by Maryland's Zach Martin and a solo shot for Boston College's Kyle Wolff to give him six jacks on the season.
Norwich would add two before the curtains drew in the eighth via a five-run inning by the Knights. Some sloppy play and plunked batters showed that Norwich's gas tank was on empty. Zach Martin would deliver another big two-RBI double, giving him four RBIs on the night. Nashua would score three runs on errors and hit by pitches, with Wolff ending the night on a bases loaded walk to make the score 12-2 for a mercy rule final.
Nashua's big win gives Cabral back-to-back victories, with the Knights now sitting 31-24. Earning another half of a game on New Britain, Nashua is now up a full game as they seek to run away from the Bees.
After a successful two game homestand, the Knights will head back on the road on Sunday. A matchup with the Westfield Starfires will close out July for Nashua, with first pitch set for 3:00 PM.