News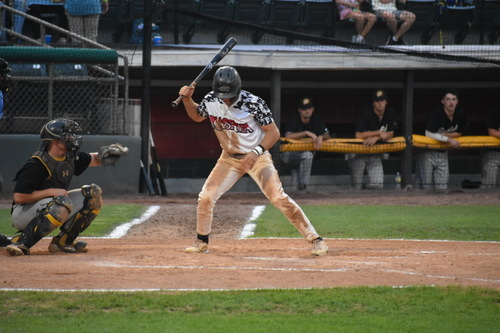 Hosting their final "Firework Friday" of 2022, the Knights looked to provide fireworks on the field as well with the Pittsfield Suns coming to town. Pittsfield, running through Nashua 10-2 just a night prior, sought a second straight win against the Knights. For Nashua, a back-and-forth battle for second in the standings framed Friday's matchup at Holman as a big one. Trying to end their three-game skid, the Knights rode off into their firework show on a walk off single to win 6-5 in 10 innings.
Friday's protagonist was Nichols' Johnny Knox, going three for five with the game winning RBI single in the tenth. Another big Knox night pushed him to .353 on the season, quickly becoming a "spark plug" for the Knights playoff push.
But it wasn't all happily ever after for Nashua. A three-run Pittsfield first inning put the Knights in a quick hole. After the rough first frame, Nashua's starter Brock Pare settled in. Salem State's righty arm struck out eight in his four innings of work, ending his outing on a high note.
After getting one back in the bottom of the first, a two run fourth for the Knights tied the ballgame back up. Back-to-back singles set the table for Boston College's Kyle Wolff to find the left center gap for a bases clearing double. Wolff's 25th and 26th RBI of the season tied him for fifth in the FCBL, coming up with a huge knock for Nashua.
In the fifth, the Knights would once again order up a two piece. A leadoff single from SNHU's Kyle Lavigne allowed Holy Cross' Jack Toomey to bring him around to score on a single of his own. Johnny Knox worked a walk later in the inning but would get trapped stealing second. Stuck in a pickle, the shifty Knox distracted the Suns enough to allow Toomey to dash home and send the Holman crowd into a frenzy with a 5-3 lead now in hand.
A two-run lead for the Knights was in hand, but it wouldn't last long. In the following inning, Pittsfield would respond with two runs to bring the game back to even. Penn's Alex Gabauer cashed in with two runners aboard with a two RBI double. After six, it was all squared at 5-5.
Not willing to give up an inch, both teams battled back and forth for the rest of the game. Both teams had their fair share of chances and tense moments, including the Knights unable to walk it off in the ninth with the bases loaded and no outs. An extra frame was required to decide this ballgame, where Nashua cooked up some more walk off magic.
A leadoff walk by Salve Regina's Matt D'Amato got the crowd rowdy ahead of Knox's at bat. Two passed balls allowed D'Amato to advance all the way to third, setting Knox up with golden opportunity. Two pitches later, Knox would rope a ball that found some outfield grass and the rest was history.
Nashua's big win moved the Knights back into second place, leading New Britain by a half of a game. Looking to hold onto the two spot, the Knights will host "Halloween in July' night at the ballpark against the Norwich Sea Unicorns. Any fan dressed in a Halloween costume for Saturday's game will receive discounted $5 tickets, with first pitch against Norwich set for 6:00 PM.