News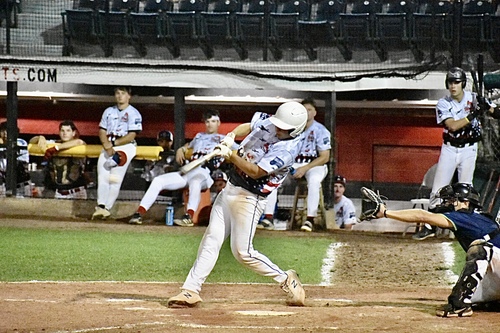 Looking to turn the tides on their losing skid, the Knights headed to Pittsfield to take on the Suns before heading back to Historic Holman Stadium. Thursday's matchup included a Nashua team locked into a playoff race and a Pittsfield squad hanging towards the bottom of the FCBL. But after the final out at Wahconah Park, it felt like the roles were flipped.
Nashua fell to the Suns 10-2 on Thursday, dropping their third in a row with a 0-2 record since the All-Star break. Pittsfield took the big win by getting to the Knights All-Star pitcher Nolan Lincoln early in his start. Eastern Connecticut's junior arm had a tough night on the bump, giving up eight earned runs in just three and ⅓ innings pitched.
Pittsfield's onslaught came early on, including a big five-run fifth inning. Penn's Cole McGonigal left his signature all over the scorecard with two solo blasts. Northeastern's Sean McGee joined in on the fun with a two-RBI single in the fourth as McGonigal and McGee were the lead roles in Pittsfield's eight run production.
For Nashua, an 8-0 hole never gave the offense a chance to boot up. It took the Knights six innings to bring home a run, leaving runners in scoring position in six of the nine frames. Salve Regina's Matt D'Amato finally cashed in for the Knights, doubling in the sixth for his 12th RBI of the season. Nashua would later bring home a second run after a leadoff triple by Amherst's Jack McDermott allowed Boston College's Kyle Wolff to bring him home on a grounder.
Getting knocked down early, the Knights never fully recovered in time to try and come back from the large deficit. Nashua, now 29-24, have dropped three straight and still sit in third place of the FCBL, a half a game back of the New Britain Bees.
Pursuing entry back into the win column, the Silver Knights will have a chance for revenge with the Suns coming up to Nashua for a Friday evening matchup. First pitch at Historic Holman Stadium is set for 6:00 PM.