News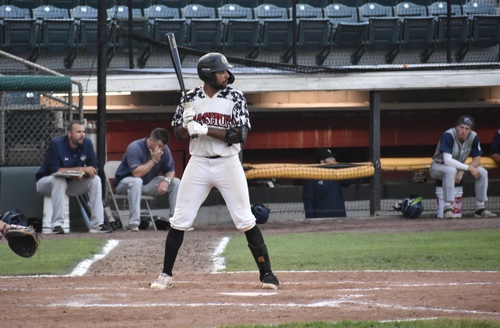 After the FCBL's All-Star Break concluded, the Silver Knights were set for their first game out of the break up in Vermont against the Lake Monsters. Some Knights were coming from New Britain, coming off their All-Star appearances with others coming from some enjoyed time off. Wherever they had been, all roads now led to Burlington to try and knock off the playoff clinching Monsters.
Trying to knock off first place Vermont, the Lake Monsters backed their 38-15 record with a big 6-3 win. In a matchup with both starters going eye for eye with three earned runs in four and ⅓ innings, Vermont's bullpen outdueled Nashua's to seal the deal at Centennial Field. While a big three run fifth gave Nashua a brief 3-2 lead, Vermont fired back with back-to-back two run innings to lock in their lead and the eventual final score of 6-3.
Eastern Nazarene's Francis Ferguson and Endicott's Gabe Van Emon were the selected starters for Wednesday's matchup. VT's Ferguson and Nashua's Van Emon both threw uncharacteristic outings, both giving up their highest earned run total of the season. Both starters were officially out of the game with the score at 3-3, with the ball now in the hands of the bullpens.
Vermont's bullpen won the tug of war match against Nashua's arms, giving up no runs to the Knights three. Three VT pitchers came out of the pen, highlighted by Columbia's Will Parkinson and Tuft's Silas Reed as they both tossed two scoreless frames. Parkinson would strike out all seven of his recorded outs with Reed giving up no hits at all.
Nashua's big inning came in the fifth, which ended up being the knockout blow to VT's Ferguson. After working the bases loaded, a sacrifice fly from Eastern Nazarene's Shane McNamara and a fielder's choice from Holy Cross' Jack Toomey knotted up what was once a 2-0 VT lead. Colby's Pat McConnell earned Nashua their only lead of the ballgame, singling to left to bring a run home.
Nashua's lead wouldn't last long, with Vermont responding in the bottom of the very same inning. A two run fifth that included an RBI single from Wake Forest's Gio Cueto regained the Monsters the lead. In the sixth, Kansas's Cooper Kelly would deliver the dagger on a two RBI triple to cap off his big three-RBI day to secure Vermont the 6-3 lead.
Six runs would be all Vermont would need, with nothing more coming from the Knights end. Nashua's Wednesday loss marks their second in a row, dropping them into third place with a half a game separating them and New Britain for second in the FCBL standings.
In a back-and-forth battle for second, the Knights will look to get back on track to top the Bees for the two spot. Nashua will head to Pittsfield on Thursday before heading home for a two game homestand. First pitch at Wahconah Park is set for 6:35 PM.