News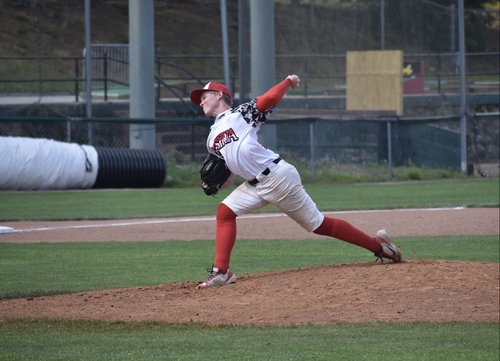 A slumping Silver Knights squad entered Sunday on a three-game losing streak. Looking to end their weekend homestand on a high note, the Norwich Sea Unicorns returned to Historic Holman Stadium for the second time this week.
Coastal Carolina's Liam Doyle got the start for Nashua, looking to follow his dominant Knights debut with a second W. Eastern Connecticut's Griffin Pontbriant took the mound for Norwich as the Sea Unicorns seeked their second win of the week against the Knights. In a game the Knights never trailed, Nashua broke their losing streak with a 5-2 win.
After days of zero production from the lineup, Nashua manufactured runs on the board and did so early. Pontbriant let two men aboard via a walk and hit by pitch to give the Knights two runners on with one out. With Siena's Richie Paltridge at the dish, the Silver Knights RBI leader got aboard on a Norwich error that brought home the first Nashua run of the day.
Eastern Nazarene's Shane McNamara, making his first start in a month, wasted no time getting his name in the box score with an RBI sacrifice fly for a 2-0 Nashua lead.
Fast forwarding to the fourth, Nashua stretched out their lead even further. After a two out walk from Niagara's Brady Desjardins, Salve Regina's Matt D'Amato punched a ball to the warning track that skipped over Holman's left field brick wall. A ground rule double for Brady gave him his sixth RBI of the season, making the score 3-0.
Already matching their runs total from the past three games combined, the Knights did not ease off the gas. Back-to-back singles from Paltridge and Boston College's Kyle Wolff set up the red and black in a prime position to add on. A walk from Wake Forest's Chris Katz loaded the bases with McNamara coming up. McNamara got on via a fielder's choice with another Norwich blunder allowing Wolff and Paltridge to score. Through five, it was all Nashua with a 5-0 lead.
Liam Doyle once again was a star for the Knights. Doyle gave up no runs with only two hits in another five-inning performance. With the Coastal Carolina freshman's elite outing alongside the Knights lineup heating up, Nashua had a firm grasp on a potential streak ending win.
Norwich would break up the shutout later in the game, posting one run innings in the sixth and seventh. Maryland's Alex Irizarry posted an RBI double with UConn's Drew Kron singling to bring home another Sea Unicorn run. Heading into the ninth, URI's Brandon Hsu looked to lock it down with Norwich slowly inching back.
After some extensive Norwich at-bats and a few Nashua blunders, Hsu got the save with a strikeout in the ninth to claim the victory for the Knights 5-2.
Nashua ended their three-game losing streak with a weekend ending victory to head into the off day. On Tuesday, the Silver Knights will be getting back into action with a doubleheader against the Worcester Bravehearts at 3:00 and 6:00 PM. Norwich will head back to Connecticut to take on the Westfield Starfires with a 6:30 PM first pitch.