News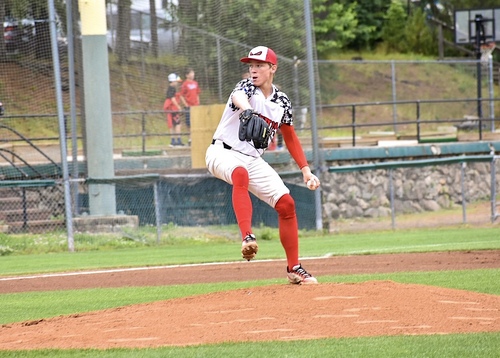 A red-hot Silver Knights team returned home to Historic Holman Stadium to take on the Suns after sweeping the two games of their brief road trip. A cloudy Father's Day afternoon was the setting for potentially the fourth Silver Knights win in a row. Coastal Carolina's Liam Doyle was slated to make his 2022 debut while UMass Amherst's Jared Henry got the start for Pittsfield. In a dominating pitching performance, Nashua took their fourth in a row over the Suns 5-0.
After a solid night for Nashua's lineup in Westfield, the Knights got right to business in the hitting department. Northeastern's Carmelo Musacchia doubled to center to lead off the inning with Maryland's Zach Martin bringing him home on a two-bagger of his own to make it 1-0 in a blink of an eye.
Not even three batters into the ballgame and the Knights already jumped out to an advantage. Nashua followed a pair of doubles with a pair of strikeouts as Holy Cross's Jack Toomey came up to the plate. In a 2-2 count, Toomey put a ball on the ground that Pittsfield couldn't make a clean play on which brought Martin home.
Jumping out to a fast 2-0 lead, Nashua kept pounding away on the Suns. In the bottom of the third, Wake Forest's Chris Katz kept the double train rolling with a double to left. Sitting at third in RBIs in the FCBL, Siena's Richie Paltridge continued his 2022 tear with an RBI single to bring Katz home. Losing control fast, Jared Henry started walking foot traffic onto the base paths. Three straight walks from Henry brought Paltridge around to score, ending his day and giving Nashua a 4-0 lead.
While the Knights manufactured to get on the board, Pittsfield's bats might as well have had a ball and chain linked to them with the way Doyle was dealing. In his five innings of work, Doyle dominated by giving up no hits and striking out eight. URI's Brandon Hsu took over for Doyle and picked up right where he left. Hsu dealt five strikeouts on only one hit in five innings, putting an exclamation point on the pitching staff's day.
It wasn't until the eighth inning that the Knights would add to the scoreboard once again, cashing in on Penn State's Jake Cooper's single by Kennesaw State's Boston Forbes getting aboard on an error. Nashua would extend their lead to five with only three outs left to get.
Plymouth State's Tyler Wright would get the honors of closing the ballgame out, taking over on the mound for Hsu in the ninth. Wright wouldn't mess around in his short appearance, cutting down the Pittsfield lineup 1-2-3 with two strikeouts. Nashua locked up a dominating victory on a relatively hot Pittsfield team and moved their win streak to four in a row.
Player of the game honors goes straight to Liam Doyle, pitching a no-no in his first appearance for the Silver Knights. Another great showing by the Knight's pitching staff helps them move to 8-13 on the season, looking to crawl up the FCBL standings.
After the league wide day off on Monday, Nashua will open a long homestand on Tuesday with a 6:00 PM matchup against the Westfield Starfires. For Pittsfield, they will look to regroup after losing their three-game win streak to the Knights by busing it up to Burlington, VT to take on the Lake Monsters. First pitch in Vermont is at 6:35 PM Tuesday.