News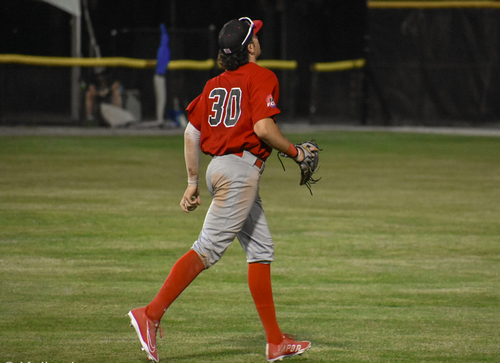 Friday brought another road game for the Silver Knights, heading to New Britain, CT after losing game one of their four game road trip 50 minutes east in Norwich. Assumption College's Shea Ryan got the start for Nashua as Mitchell College's Chris Gibbs took the mound for the Bees. Looking to get back into the win column, the Knights could not avoid the back-to-back losses as New Britain took the ballgame 12-4.
Looking to get back on track coming off yesterday's loss, the Knights wasted no time getting on the scoreboard. Penn State's Richie Partridge and Colby College's Pat McConnell got to business, both hitting singles in the first. Boston College's Kyle Wolff took advantage of having runners aboard and hit a RBI sacrifice fly to center field to make it 1-0 after one.
Both teams went quiet in the next two half innings until the Bees offense got going. Bowdoin College's CJ Brito-Trinidad, who had a 2-4 day including a home run last time facing Nashua, continued his offensive efficiency against the Knights by bringing home a run on a sacrifice fly of his own.
Both teams started to trade blows each inning. Richie Paltridge posted another single in his second at bat of the night, bringing home Salve Regina's Matt D'Amato who got on base via a walk in the third. In the bottom half of the third, New Britain wasted no time responding with a three-run frame. Franklin Pierce University's Joel Lara slapped an RBI single to left field to tie the game, as Yale University's Davis Hanson brought Lara home on his two-run home run to make it 4-2 Bees.
After squandering a lead and never catching back up against Norwich the night prior, the Knights tried to break that trend with a two run fourth inning. Penn State's Jake Cooper singled after UMass's Will MacLean walked his way aboard, leaving Nashua in a great spot to start the inning. Amherst College's Jack McDermott and Northeastern University's Greg Bozzo both posted RBI sacrifice flies, squaring the score up at four after the top of the fourth.
While Nashua answered back to the Bees offense by tying the game, the New Britain lineup still had a lot in store. New Britain posted a five-run inning to truly make a sizable gap between the two teams on the scoreboard. Bees' hitters might need to get their eyes checked after the way they were seeing double. MIT's Teddy Schoenfeld, Central CT State's Elliot Good, and Joel Lara all posted RBI doubles along with another run coming in on a wild pitch to make it 9-4 Bees.
Nashua's offense had no response for the Bees output and went quietly into the night. New Britain added a few more runs before the final out, including Lara and Hanson both getting another RBI to add to their impressive day. After five scoreless innings for Nashua's offense to finish the game, the Bees won 12-4.
While the offense going quiet after an early start does not help the cause, most of this loss is pinned on the pitching staff. No Silver Knight had a good day, or even an average day on the bump with all three Nashua pitchers giving up three or more earned runs. It definitely makes it harder on the offense to come back if the goal posts keep getting pushed back by the pitching and defense.
Player of the game honors goes to Franklin Pierce's Joel Lara. Lara went 4-5 with three RBIs and three runs. Lara was a pivotal part of the Bees lineup in the game, going back-to-back with Yale's Davis Hanson in the lineup as he posted a good day as well.
Nashua will look to turn their road trip around with a two-game trip in Vermont before coming home. Game one of Lake Monsters versus Silver Knights will take place on Saturday at 6:05 PM. New Britain will go and play in a battle of Connecticut, visiting the Norwich Sea Unicorns at 6:30 PM Saturday.