News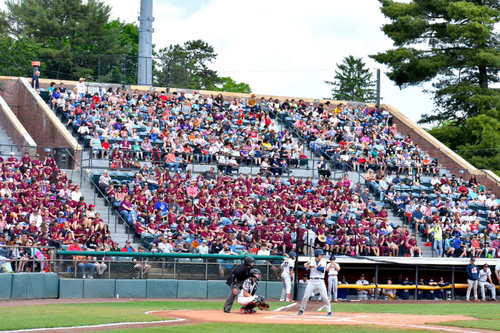 After an Education Day win in Worcester, Nashua returned home to host their own Education Day on Wednesday morning. With rows and rows of students in attendance, the Brockton Rox and the Silver Knights were set to give them something to cheer about in an exhibition matchup. A wild game full of backwards hats, pies in the face, and a home run derby ended with Nashua taking the win 12-7.
Both lineups were set to produce fireworks for the kids, with both teams posting big numbers in several innings. An unorthodox lineup with pitchers hitting cleanup and shortstops taking the mound led to quite the highlights. One of Brockton's pitchers, Georgetown's Marshall Whitmer, went deep in the first to ignite the Brockton bench. Already in the first, the energy was high.
Nashua did their part in the offense party, posting eleven runs in the ballgame. Anna Maria's James Powers went 2-2 with two RBI. Boston College's Kyle Wolff and Penn State's Richie Paltridge both posted two RBIs as well. It was a hitting parade one through nine for the Knights, as the kids were out of their seats cheering them on.
Later in the game, more goofy substitutions took place. We witnessed the FCBL pitching debut for Lynn University's Pedro Martinez Jr. and let's just say his father has better stuff. Several Nashua pitchers took at-bats with University of Rhode Island's Brandon Hsu getting aboard and even stealing a bag. To cap it all off, Brockton's six-foot six pitcher John Archer from St. Thomas Aquinas smoked a double to fire up the Rox.
With the game at 11-3 Nashua heading into the Home Run Derby, Brockton sent up the red-hot Marshall Whitmer to the plate. Whitmer, normally a pitcher, showed his true form and didn't deliver a home run. Brockton took a timeout and called up the ace in their sleeve, Tallahassee Community College's Manny Ramirez Jr.
Ramirez Jr. blasted four home runs to make the score 11-7. With the win already in the bag, Boston College's Kyle Wolff still looked to send balls into the trees for the Knights. Wolff didn't do as well as he liked, putting up one home run. Regardless of the Knight's swings, they took the ballgame 12-7.
Nashua will get back to the competitive scene with a game in Norwich tomorrow night at 6:30 PM. Brockton will play tomorrow as well, heading back home to take on the New Britain Bees at 7:00 PM.