News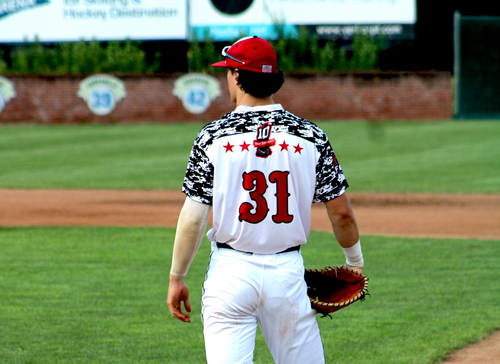 After their first day off in over a week, Nashua hit the road on Tuesday to face the Bravehearts on their 10:30 AM "Education Day". Worcester welcomed 3,000 students in the local area for a special type of ballgame, as the kids were able to choose the rules of each inning.
For the "You Choose the Rules Game", kids in the community were able to choose a different rule for each inning of the game. This included stipulations such as getting pied for striking out, fans being able to catch foul balls for outs, and even kids being able to play in the outfield. A two-hour cap was put on the game, with the seven inning ballgame ending in a metal bat home run derby.
With the unorthodox ground rules in place, the two teams were set to face off. Nashua sent Salve Regina's Brayden Clark to the mound while Salem State's Jack Sefrino started for the Bravehearts. In the bottom of the first, Marist College's Gavin Noriega got Worcester on the board first with an RBI sacrifice fly.
Nashua took the upper hand in the fourth, with Penn State's Richie Paltridge and Colby College's Pat McConnell both posting RBIs in the inning. Paltridge, with most likely some help coming via having students in the outfield, slapped a triple to center field. McConnell would bring Paltridge home later in the inning with a sacrifice fly to make it 2-1 Knights.
Worcester would answer back with a three run sixth. Southern Maine's Cam Seymour RBI single highlighted the inning, with two more runs coming unearned. After six, it was 4-2 Bravehearts.
At the end of seven innings, Worcester had the lead 4-2 with the game heading into the metal bat home run derby. UMass Amherst's Will MacLean was selected to swing for the Knights with Fordham's TJ Wachter going for Worcester. MacLean posted seven home runs for Nashua well Worcester's Wachter only put up four, adding to the total score and giving Nashua the 9-8 victory.
A bizarre, goofy ballgame for sure but the Knights will take the victory either way. After the slump the Knights have endured, a little "Education Day" fun might be just the thing needed to pick up morale.
Nashua will head back home to host their own "Education Day", hosting the Brockton Rox at 10:30 AM on Wednesday. Worcester will continue their "Choose the Rules" festivities with another home game for the students against Norwich tomorrow morning.