News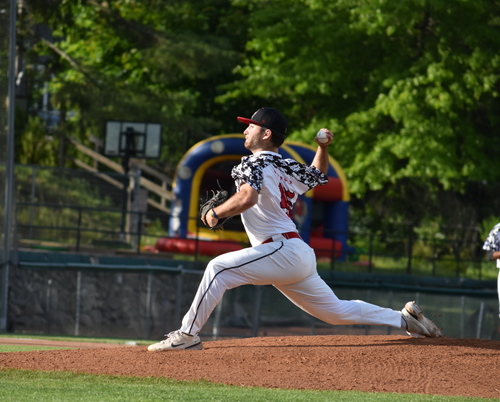 A gloomy Wednesday afternoon was the scene for the Silver Knight's return home to face off against the Vermont Lake Monsters. Nashua was coming off a road win in Pittsfield that snapped their three-game losing skid. Vermont, after their 0-3 start, is rocking a three-game win streak as they look to get to 4-3 on the year.
Salve Regina University's Brayden Clark got the start for the Knights while Harvard University's Sean Matson started for Vermont. Both starters battled back and forth, both throwing five innings of no-run baseball. Clark struck out six in his five and ⅔ innings of work while Matson racked up nine strikeouts.
After five innings of scoreless baseball, Vermont broke the tie with Clarkson College's Colby Brouillette doubling to right field to bring home the first run of the ballgame. With a run already across, the Lake Monsters had the bases loaded as Clark's night came to an end. Clark University's Zach Gitschier took over for Nashua in a pivotal spot for the Knights. With two outs and ducks on the pond, Gitschier punched out the last Vermont batter of the inning and got the Nashua bench fired up.
Keeping the game at 1-0 through seven, Nashua's pitching could only hold off for so long as Vermont brought two more runs across in the eighth. Tufts University's Jimmy Evans and Husson University's Jackson Curtis both posted RBI hits to make it 3-0.
Heading to the bottom of the ninth, Nashua looked to avoid being shut out for the first time in 2022. UMass' Will MacLean doubled to start the rally with Amherst College's Jack McDermott singling to left to bring him home. With the game now at 3-1, all eyes were on St. Thomas Aquinas College's Andrew Jemison with two men aboard. Jemison put together quite the at bat for the Knights, but the Nashua rally was just too little, too late as Vermont sealed the deal and won, 3-1.
While the Knights shined on the mound, a silent night from the offense due to excellent Vermont pitching handicapped Nashua's chances. Player of the game honors goes to Harvard University's Sean Matson, as he struck out nine in his scoreless five innings.
Nashua moves to 2-4 on the year and will be back at it tomorrow night against the Brockton Rox with a 6:00 PM first pitch at Historic Holman Stadium. Vermont will head back north to Burlington with their four-game win streak as they open up a two-game series with the Westfield Starfires.