News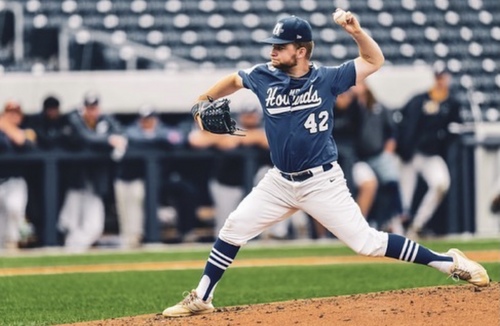 It's the final Spring Season round-up for our incoming Silver Knights players. This past week some players capped off tremendous seasons, while others took home some Conference crowns and look to continue advancing. Here are this past week's top performers:

Division I

Wake Forest: The Demon Deacons currently sit right around the .500 mark in conference play. As they look for a conference tournament push, Will Andrews has stepped up with a little bit more of a work load. Andrews had 2 outings for Wake Forest this past week, the first coming in non conference action where he tossed a scoreless inning with 2 punch outs. Andrews would be called on again in conference action, where he allowed 1 run. Andrews winds down the regular season with a 4.50 ERA and opponents batting just .200 against him.

Maryland: The Terps have been rolling all season as they sit at #15 on the Nation's Top 25 rankings. Noah Mrotek posted a solid outing this past week for Maryland as they took on Michigan in conference play. Mrotek went 3 scoreless innings, where he allowed just 1 hit and struck out 2 batters. Mrotek sports a 5.40 ERA along with a 3-1 record.

Niagara: Brady Desjardins and the Purple Eagles are turning it on late in the season for a final playoff push. Desjardins had one of his best weeks as he hit .546 with a walk, stolen base, and 3 runs scored. Desjardins brings his season average up to .257.

Division II

Assumption: The Greyhounds put together a magical playoff run in the NE10 Tournament and came within 1 win of taking home the title. Maybe the biggest part of this incredible run was Shea Ryan's no-hitter in an elimination game against Le Moyne. Ryan went 9 innings, no hits, no runs, 4 walks, and 3 strikeouts while picking up his fifth win of the season. Shea will come to Nashua on the heels of his best outing along with a 5-3 record and 5.23 ERA.

SNHU: As expected, the Penmen once again took the NE10 crown. On their warpath was Le Moyne, who ran into the talented arm of Josh Roberge. Much like Shea Ryan, Roberge made quick work of Le Moyne. Roberge tossed a complete game, 9 inning shutout where he racked up 8 strikeouts while walking just 1. Roberge and SNHU head into the postseason as the #8 team in the nation, and Roberge boasts a 7-3 record with a 3.53 ERA and 76 punch outs.

Saint Thomas Aquinas: Another great playoff run that fell just short, STAC fell to Molloy to cap off their season. Andrew Jemison finished the season strong with 3 hits, a run scored, and an RBI in the postseason. Jemison comes to Nashua with 187 at bats already under his belt. He batted .316 with 38 runs scored, 18 extra base hits, 37 RBI, and 12 stolen bases.

Division III

Plymouth State: With a tough draw, Plymouth State drew #1 Eastern Connecticut to start their conference tournament. Tasked with the start was Bobby Cliche, who held his own in the outing. Cliche went 5 innings, allowing 5 runs on 5 hits. He struck out 3 batters, but was tagged with the loss. In relief of Cliche was Noah Wachter. Wachter's 3 innings of 1 run baseball was not enough to overcome the #1 team in the nation. The Plymouth State trio of Wachter, Cliche, and Tyler Wright will come to Nashua with 119.1 innings of action and 128 strikeouts between the 3 of them.

Nichols: Another tremendous playoff run that fell just short, the Bison found themselves in the loser's bracket immediately, before battling back to beat Salve Regina. Nichols lost their final game to Western New England, which would have put them in the conference championship for the first time since 2005. Sean Ryan saw a couple outings for the Bison in the playoff run. In the opener vs. Roger Williams, Ryan tossed a scoreless inning while recording a strikeout. Ryan would be called on again in the finale vs. Western New England, this time allowing 2 runs over an inning of work. Sean will head to Nashua after his freshman campaign, where he tossed 39.2 innings for the Bison and posted a 2-3 record.

Amherst: Falling in semi-finals of the conference tournament was Amherst. Jack McDermott produced for his team in the postseason, batting .400 with a stolen base and a run scored. McDermott will come to Nashua with his .293 batting average, 24 runs scored, 12 extra base hits, and 25 RBI.

Colby: Colby finished their very impressive season by losing in the conference semi-finals. Outfielder Patrick McConnell had a great postseason as he hit .417 with 6 RBI and drew 2 walks. McConnell will come to Nashua with an even .300 batting average accompanied by 22 RBI.


The Nashua Silver Knights will be reporting next week before taking on the Pittsfield Suns in the home opener on Thursday, May 26 at Historic Holman Stadium. First pitch is slated for 6:00 p.m.