News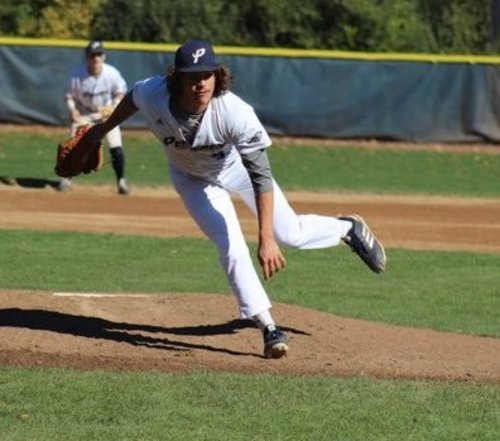 The NCAA season is winding down as we enter conference tournament time. Here are the Silver Knights top performers from the crunch time part of the Spring:

Division I

Wake Forest: Incoming Silver Knights arm Will Andrews saw some action this past week for the Demon Deacons. Andrews first got the ball against Gardner-Webb, where he tossed a scoreless inning and struck out the side. He would get his second outing against Longwood, also throwing 1 inning and allowing 1 earned run while striking out 2. This was the first run Andrews has allowed on the year, moving his season ERA to 3.38. Andrews has struck out 7 batters and is yet to allow a walk this season. Andrews battering mate, Chris Katz, also recorded a hit, a run, an RBI, and drew a walk in the series.

UMass: Will MacLean has stayed consistent in his freshman campaign, batting .308 on the week with 4 runs, 4 RBI, 4 walks, and 2 stolen bases. MacLean is hitting .317 in his first season as a Minuteman and boasts a .444 on base percentage on top of his 4 home runs.

Niagara: Shortstop Brady Desjardins also had a solid week. Desjardins batted .235 with 5 runs scored and 4 RBI. He drew 4 walks and stole 2 bases on the week. Brady is now batting .226 on the year with 6 extra base hits.

Division II

SNHU: Continuing another great season is the hometown Penmen. Lefty Siver Knight George Welch had an incredible outing this past week for SNHU. Getting called out of the bullpen, Welch tossed 2 innings where he struck out every batter he faced. Welch is now 2-0 with a 3.04 ERA and 37 strikeouts over 23.2 innings of work. Another returning Silver Knight, Josh Roberge, also had an impressive outing for the Penmen. In his start vs. conference rival Franklin Pierce, Roberge went a complete 7 innings, and allowed just 1 run on 5 hits, and struck out 9 batters. Roberge picked up his sixth win of the season and sports a 3.92 ERA with 63 punch outs.

Saint Thomas Aquinas: Andrew Jemison continues to swing the bat well for STAC, this time batting .286 with 7 runs scored, 5 RBI, 5 walks, and 2 stolen bases. Jemison is batting .327 with a .439 OBP and 34 RBI.

Pace: Outfielder Mitch McCabe continues to excite Silver Knights fans for this summer. This week, McCabe hit .471 with 6 runs, 5 RBI, and launched his tenth homer of the season. McCabe currently sports a .376 batting average with 38 runs scored, 30 RBI, 8 doubles, 2 triples, 10 home runs, and a .493 on base percentage.

Saint Anselm: Adam Betty found himself getting the ball to kickoff the conference series vs. Stonehill. Betty tossed 6 innings and allowed 4 runs while striking out 5 batters. Betty moves to 4-4 on the season through his 10 starts for the Hawks. Lefty Avery Mosseau also saw action. In game 2, Mosseau got the call out of the bullpen and went 1 scoreless inning. Mosseau is 1-2 on the year with a 5.56 ERA.

Division III

Salve Regina: The Seahawks had themselves a big week, sweeping conference opponent Western New England. Brayden Clark got the ball in Game 2 of the conference matchup, and he spun a gem. While picking up the W, Clark went 6 scoreless innings and allowed just 4 hits while striking out 7 batters. Clark is now 5-1 with a 2.90 ERA for Salve Regina. Outfielder Matt D'Amato also had a great week for the Hawks. D'Amato batted .385 with 7 runs scored, 4 RBI, 5 walks, a stolen base, and hit his fourth home run of the season. D'Amato is now sporting a .298 batting average with a .408 OBP.

Anna Maria: The versatile James Powers put together another good week for the AMCATS. Batting .333 with 4 runs scored and 3 RBI, Powers moved his season statistics to .358, 34 runs, and 23 RBI.

Amherst: Freshman Jack McDermott had a big week for Amherst. He hit .385 with 5 RBI, 6 runs scored, and drew 3 walks. McDermott continues to see his average creep up as he is now hitting .292 with 21 runs scored and 19 RBI.

Colby: Colby continues their strong season, as does outfielder Patrick McConnell. Hitting .250 on the week, McConnell drove in a run and came around to score twice himself. He also stole his fifth and sixth bases of the season. McConnell is batting .295 on the year for the Mules.

Eastern Nazarene: Shane McNamara continues to lift Eastern Nazarene's offense. He hit .250 this past week and drove in 2 runs, scored 6 runs, and stole 4 bases. McNamara is hitting .325 with 31 runs, 30 RBI, 9 doubles, 4 triples, and 5 home runs.


Stay tuned for the final few round ups as we are now less than a month away for Opening Day at Historic Holman Stadium!