News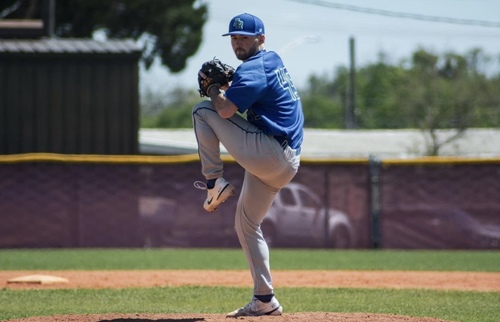 The NCAA season is nearing a close as the DII & DIII programs begin to prep for their postseasons, the DI teams power through their most important part of the schedule. Here are your top performing Silver Knights from this past week:

Division I

Tulane: Freshman pitcher from Concord, Jonah Wachter, got his highest workload of the season this past week for the Green Wave. Wachter had 2 outings out of the pen, with the first coming against Southern Mississippi. Wachter tossed 1 inning out of the pen and allowed 2 runs while also striking out 2 batters. Wachter would come back to face ECU. This time Wachter tossed a scoreless inning and allowed 2 baserunners. Wachter now has 3 outings out of the bullpen in his rookie season.

Holy Cross: Trevor Neff also pulled double duty this past week for Holy Cross. In his first outing, Neff allowed 1 run in a third of an inning of work and picked up the loss. He would bounce back the next day vs. Lafayette where he tossed 4 scoreless innings, struck out 3 batters, and picked up his third win of the season. Neff is now 3-1 with a 4.08 ERA on the year. He has also struck out 23 batters while walking only 6.

Wake Forest: Chris Katz still found a way to perform in the Demon Deacons' series vs. Notre Dame. Katz logged a hit, 3 RBI, and 2 walks in the series. Katz is batting .364 on the season with an OBP of .463.

Maryland: The Terps continue to cruise this season, as does reliever Noah Mrotek. Mrotek got the ball in a relief effort against Illinois and went 1 scoreless inning and added a strikeout. Mrotek is 2-0 with a 3.09 ERA.

Sacred Heart: Freshman pitcher Owen MacDonnell had a short week for Sacred Heart, as he was tasked with getting just 1 out for his team. MacDonnell currently sports a 4.94 ERA on the season.

UMass: Returning Silver Knight Will MacLean stayed consistent with the bat for the Minutemen. MacLean batted an even .200 on the week and drove in 5 runs while scoring 4 times himself. He also drew a walk, stole a base, and launched his fourth homer of the year. MacLean is batting .318 with 23 RBI and a .430 OBP.

Division II

SNHU: Both Silver Knight arms had big weeks for the Penmen this past week. Lefty reliever, George Welch, tossed a scoreless inning in the conference matchup vs. Bentley. Josh Roberge, drew the start in Game 2 and went 7 innings allowing 5 runs on 8 hits and striking out 6 batters while picking up the win. Welch currently posts 3.86 ERA with a 2-0 record, while Roberge is 5-3 with a 4.29 ERA. The two of them have combined for 78 strikeouts this spring.

Saint Thomas Aquinas: Infielder Andrew Jemison continued his strong season for STAC. This time batting .333 on the week with 3 runs, 2 RBI, and 2 walks. Jemison is batting .333 on the year with 29 RBI and 10 stolen bases.

Pace: Veteran outfielder Mitch McCabe did it again as he launched his ninth home run of the season. McCabe is hitting .359 with 32 runs, 25 RBI, and a .483 on base percentage.

Catawba: Brandon McSorley made the most of his first outing in awhile, as he tossed a scoreless inning out of the pen vs. Coker. McSorley currently posts a 6.75 ERA for Catawba.

Saint Anselm: The Silver Knights arms came to play once again for Saint A's. Adam Betty put up his best start of the season taking on Saint Michael's. Betty went 8 innings, allowed no runs on just 3 hits, and racked up 8 punch outs while picking up the win. Avery Mosseau also had a solid week, as he tossed a scoreless inning to earn himself another save. Betty is currently 4-3 for the Hawks, while Mosseau is 1-2 with 3 saves. The two have combined for 63 Ks.

Division III

Salve Regina: Brayden Clark had himself a monster week for Salve Regina, picking up wins in both of his starts. His first came against conference opponent, Curry College. Clark tossed 5 scoreless innings where he did not allow a hit to the Colonels and he also picked up 7 strikeouts. Clark would come back in the weekend series vs. NYU, where he once again went 5 innings, allowing 1 run on 5 hits and 5 strikeouts. Clark's combined numbers between the 2 starts were: 2 Wins, 10 innings pitched, 1 earned run, and 12 strikeouts. Outfielder Matt D'Amato also put together a good week for his squad, batting .250 with an RBI and 2 runs scored. Brayden Clark is currently 4-0 with a 3.30 ERA, while D'Amato is batting .287 with 13 extra base hits.

Anna Maria: To no one's surprise, James Powers put together another impressive offensive week. Powers hit .429 with 3 runs and 4 walks. He is now batting .360 on the year with 30 runs, 20 RBI, and a .448 OBP

Amherst: Freshman Jack McDermott has hit his groove for Amherst, batting .286 with 5 RBI, 4 runs, and 2 walks on the week. He currently posts a .280 batting average with 15 runs scored.

Colby: Patrick McConnell is heating up as well, as this past week for Colby he batted .316 with 3 RBI and a run scored. He also tacked on 2 stolen bases. McConnell is batting .303, with 20 hits on the year.

Eastern Nazarene: Returning Knights, Shane McNamara put together another strong offensive week. Batting an even .300 with 3 RBI and a run scored. McNamara is batting .336 with 9 doubles, 4 triples, and 5 home runs.


We are now less than a month away from Silver Knights Opening Day! Stay tuned for the final few weekly round ups as we find out which players will be red hot coming into Nashua!