News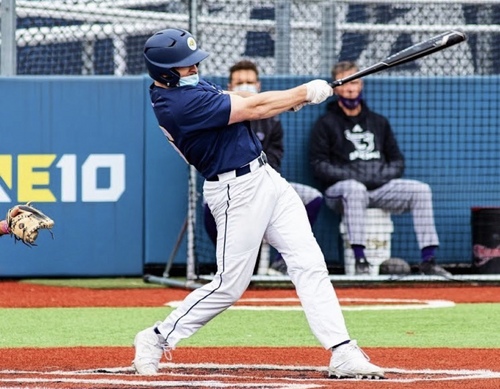 We are now 37 days away from Silver Knights baseball at Historic Holman Stadium, and the incoming Silver Knights are in mid-season form. Here are this past week's top Silver Knight performers:
Division I
Holy Cross: Trevor Neff racked up the outings for Holy Cross this past week. His first outing was against University of Rhode Island. Neff tossed 1.1 scoreless innings, allowing 1 hit and striking out 1 as well. Neff got the ball again in the conference series vs. Bucknell, where he allowed 3 runs over 2 innings. He came back for a third outing in the series finale, tossing two-thirds of an inning where he did not allow a run. Neff now sports a 4.44 ERA and has struck out 20 batters, while walking just 4.
Wake Forest: Chris Katz stayed hot once again, going 2-5 (.400) on the week vs. Clemson. Katz is hitting .432 on the year and is reaching base in 53% of his plate appearances.
Merrimack: 2021 Silver Knight LT Pare also saw a lot of action this week for the Warriors. Pare tossed a total of 8 innings over 3 relief appearances, highlighted by a scoreless 5 inning outing vs. Bryant where he picked up the win, moving to 2-0 on the year.
UMass: The Minutemen's young infielder continued his impressive freshman season this past week, batting an even .300 over 20 at bats. He drove in 5 runs, scored 4 runs, drew 3 walks, and blasted his third home run of the season. Will MacLean is hitting .359 with 21 runs and 18 RBI.
Division II
Saint Thomas Aquinas: Infielder Andrew Jemison keeps on rolling for STAC, this time batting .333 over 18 at bats. He logged 6 RBI, 4 runs, 3 walks, a stolen base, and homered for the second time this season. Jemison is batting .333 with 24 runs scored and 27 RBI.
Pace: Veteran outfielder Mitch McCabe put on a show for Pace this past week. Hitting .308 on the week, McCabe scored 7 times while driving in 4 runs and walking 6 times. He also launched 3 home runs over his 13 at bats. McCabe is now batting .383 with 8 home runs and 23 RBI. He has also scored an even 30 runs.
Saint Anselm: RHP Adam Betty got the ball to kick off the conference weekend vs. Franklin Pierce. Betty got the job done for the Hawks, going 5 innings and allowing 4 runs on his way to picking up the win. Betty is now 3-3 on the year over his 8 starts for Saint A's.
Division III
Plymouth State: The NSK arms teamed up again this past week for Plymouth State. Bobby Cliche got the ball to kick things off against Western Connecticut. Cliche went 6 innings, allowing 2 runs on 4 hits and struck out 7 batters. Lefty Noah Wachter came on in relief and tossed 3 innings of one-hit, scoreless baseball to pick up the W. Cliche and Wachter have combined for 73 strikeouts for Plymouth.
Nichols: Sean Ryan got the ball in a relief effort in a very exciting game vs. Trinity (CT). Coming on in the late innings, Ryan tossed 2 scoreless innings for the Bison where he gave up just 1 hit and struck out 3. Ryan is 2-1 with a save on the year for Nichols.
Salve Regina: Outfielder Matt D'Amato got back on track this week for the Seahawks. He hit .333 with 2 walks and 3 runs scored over Salve Regina's three games. D'Amato is batting .293 with 8 doubles, 1 triple, and 3 home runs.
Clark: Returning Silver Knight Zach Gitschier put together yet another impressive relief outing this past week. Getting the ball in the middle innings against Coast Guard, Gitschier tossed 3 scoreless innings where he allowed just 1 hit and struck out 3 batters. Gitschier currently sports a great 1.86 ERA and has still yet to allow a walk this season.
Anna Maria: James Powers continues to rake in 2022 as he hit .364 for the AMCATS this past week. He also drove in 2 runs while coming around to score once himself. Powers is now batting .351 on the year and has stolen 13 bases.
Amherst: Freshman Jack McDermott has found his groove offensively for Amherst. This past week McDermott batted .353 with an RBI, 3 runs scored, and drew a walk. He brings his season average up to .278 and has recorded 20 hits over Amherst's 23 games.
Colby: Patrick McConnell also had himself a solid week offensively, as he matched McDermott's .353 and also drove in 5 runs while scoring 6 times as well. McConnell also drew a walk and tallied a stolen base on the week. McConnell is batting .298 on the year with an OBP of .358
Eastern Nazarene: Returning Silver Knight, Shane McNamara, once again had an impressive performance for Eastern Nazarene. This time batting .231 with 5 runs scored, 3 RBI, 2 walks, and a stolen base. McNamara also launched is fifth homer of the season this past week. McNamara is now batting .340 and has 17 extra base hits (34 total hits) through his first 100 at bats of the season.
Stay tuned for the final month of Silver Knights updates leading into what should be another incredible summer at Historic Holman Stadium!