News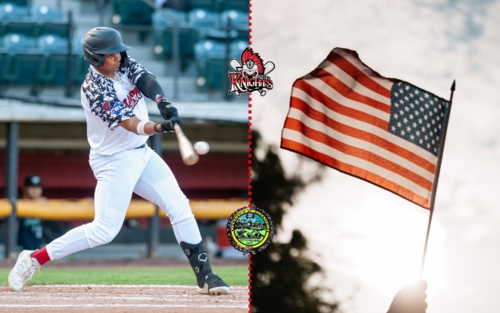 For the first time in franchise history, the Nashua Silver Knights will be home at Historic Holman Stadium for the 4th of July. The Silver Knights will host an 11:00 a.m. game against the Worcester Bravehearts. The last time a Holman-tenant played at home on July 4th was in 2001 when the Nashua Pride independent team played an Atlantic League game.
For the 4th of July game, all kids 12 and under will be admitted for free and the first 500 adults to reserve tickets will be free, thanks to the generosity of the City of Nashua Parks & Recreation. The game will have open, general admission seating, excluding season ticket holder seats. Tickets can be claimed in advance on a first-come, first-served basis on the Silver Knights ticketing website.
"We are excited to work with the Silver Knights organization to offer this opportunity for Nashua residents, young and old, to enjoy a day at the ballpark," said Lisa Fauteux, Director of Public Works, "and we hope that everyone comes back to Holman Stadium later in the evening to enjoy our annual fireworks show."
To add to the fanfare of the holiday celebration, Holman Stadium will be outfitted with an expanded and free Kids Zone to include face painting, a 30-foot inflatable obstacle course, a bouncy house, a mini golf course, and inflatable t-ball. Perhaps best of all, there will even be Silver Knights players, coaches, and staff in a dunk tank. Additionally, the first 250 kids into the ballpark will receive a free t-shirt! The festivities of the ballgame will not conflict with the City's usual fireworks extravaganza later that afternoon.
"I couldn't be more excited for the Silver Knights to be a part of the City of Nashua's incredible 4th of July celebration," said Silver Knights General Manager, Cam Cook. "Our Kids Zone will be loaded with activities, players will be in the dunk tank, our team will be wearing their gorgeous Salute to Service jerseys, and I hope this can become a Nashua tradition for years to come."

On-field, the Silver Knights players will be sporting their USA-themed jerseys and hats. Click here to see the design of this year's jerseys that will be auctioned off at the end of the season.
The Nashua Silver Knights' 2022 season is set to begin at Historic Holman Stadium on Thursday, May 26. For the latest Silver Knights news and information throughout the year, visit nashuasilverknights.com and follow the team's Facebook, Twitter, Instagram and TikTok pages.