News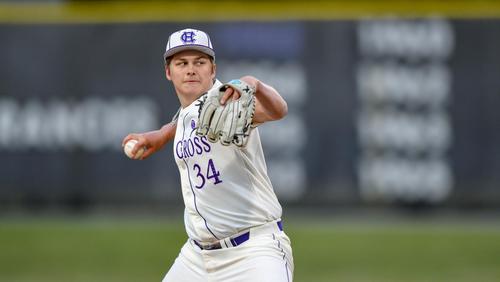 The 2022 Silver Knights players continued to perform this past week as the NCAA season carries on. Here are last week's top Silver Knight performers:
Division I
Holy Cross: RHP Trevor Neff had himself a big week with a lot of innings out of the bullpen for the Crusaders. Neff's first action came in their mid-week game vs. Brown. Neff tossed 3 scoreless innings, where he allowed just 2 baserunners and struck out another 2 in his outing. Neff came back in Game 2 of the Navy series. Neff picked up the W while going another 3 innings where he did not allow a run and gave up just 1 hit. He also punched out 6 batters in the effort. Neff brings his season ERA down to 3.98 and has struck out 17 batters while allowing just 3 walks.
Wake Forest: Freshman Chris Katz keeps on adding to his impressive rookie resume. This week he hit .571 while driving in a run and scoring twice himself. Katz is now hitting .436 for the Demon Deacons and is reaching base in 54% of his plate appearances.
UMass: Another impressive freshman campaign continued this past week, as returning Knight Will MacLean hit .357 over his 14 at bats. He logged 3 RBI and 3 runs while also walking 4 times. MacLean is batting .375 and has scored 17 runs for the Minutemen.
Niagara: Infielder, and 2021 Silver Knight, Brady Desjardins had a solid week during Niagara's short weekend. Desjardins hit .286 on the weekend and drove in a run in the series against Monmouth. Desjardins is now batting .235 on the year.
Sacred Heart: Freshman Owen MacDonnell followed up an impressive performance two weeks ago with another great outing this past week. In game 2 of the series vs. Wagner, MacDonnell tossed 2.2 scoreless innings and didn't allow a hit while striking out 4. MacDonnell's impressive rookie season continues as he sports a 4.19 ERA and opposing hitters are batting .230 against him.
Division II
Assumption: Lefty, and now 3-time Silver Knight, Shea Ryan keeps on logging wins. In his start vs. Stonehill, Ryan went 4 innings and allowed 1 run on 3 hits while striking out 5 batters on his way to picking up the victory. Shea is now 4-1 on the season and has logged 27 strikeouts to 11 walks.
Saint Thomas Aquinas: Infielder Andrew Jemison, continues to be a star for STAC. This past week Jemison batted .455 over his 11 at bats. He drove in 4 runs, scored 3 times himself, and walked 3 times while also swiping a bag. Jemison is hitting .333 through 114 at bats with 20 runs scored, 21 RBI, and has 11 extra base hits.
Pace: Mitch McCabe continued his offensive tear this past week, hitting .417 with 6 runs, 3 RBI, 2 walks and 2 stolen bases on the week. McCabe is batting .397 for Pace and has hit 5 homers, 2 triples, and 5 doubles.
Division III
Plymouth State: Silver Knight arms combined twice this past week for Plymouth State. In their game against Northern Vermont, Bobby Cliche and Noah Wachter each tossed a scoreless inning, allowing just 1 baserunner between the two of them. Cliche also struck out the side in his outing. Both of these guys came back in Game 2 of their double header vs. Keene State. This time, Cliche drew the start and went 5.1 innings and allowed 3 runs while striking out 7 batters. Wachter came on in relief of Cliche, going the remaining 3.2 innings without allowing a run and giving up just 1 hit. Cliche picked up his second win of the year, while Wachter logged his fourth save for Plymouth.
Nichols: In game 2 of the Bison's conference double header vs. Curry, freshman Sean Ryan got the ball to start the game. Ryan tossed 5 innings of 2-run baseball while striking out 3 batters on his way to picking up the win. Ryan is now 2-1 on the year and has struck out 29 batters through his 26 innings of work.
Salve Regina: The Seahawks had a perfectly even week as they went 2-2-1 over their 5 games. Outfielder Matt D'Amato logged 3 hits over the week, one of which was his second home run of the season. He is now hitting .289 with 10 of his 24 hits coming for extra bases.
Clark: Zach Gitschier logged another relief appearance for the Cougars this past week, tossing 1 innings and allowing 1 run while striking out 2. He currently posts a 2.70 ERA striking out 7 batters and has still yet to allow a walk over his 6.2 innings of work.
Anna Maria: James Powers is still crushing the baseball. This past week he hit an even .600 and scored 7 runs for the AMCATS. He also swiped 3 bags to bring his season total to 12. Powers is now hitting .372 with 25 runs scored.
Amherst: Freshman infielder Jack McDermott had a big bounce back week for Amherst, hitting .462 on the week while drawing 7 walks. He also drove in 3 runs and came around to score twice himself. McDermott is hitting .235 with a .375 OBP.
Eastern Nazarene: It was a short week for Eastern Nazarene, but Shane McNamara made the most of it. McNamara had 1 hit in his 4 at bats, which was, of course, a solo home run, his fourth of the season. McNamara is still batting an impressive .356 with 22 RBI.
As we near the mid-season mark of the NCAA season, stay tuned for all Silver Knights updates!