News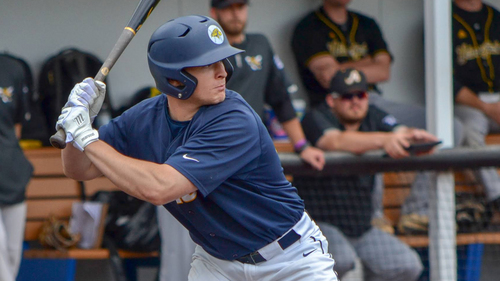 Silver Knights pitching stole the show this past week across the NCAA season. Knight's arms racked up 5 wins and recorded a save on the week. Here's the top performers to kick off April:
Division I
Holy Cross: The Crusaders picked up a mid-week win over in-state rival Harvard before being swept in their conference series vs. Army. RHP Trevor Neff posted a great outing in their lone win of the week. Neff tossed 3 scoreless innings and struck out 5 on his way to picking up his first win of the season. Neff currently sports a 5.79 ERA in his rookie campaign.
Maryland: It was a big week for the Maryland boys as all three incoming Silver Knights saw action. Matt Orlando got a relief appearance in which he tossed a scoreless inning, striking out 2 batters. Orlando lowered his season ERA down to 1.23. Noah Mrotek also saw action on the bump for the Terps last week. Mrotek went 3 scoreless innings, striking out 2 on his way to his second win of the season. Mrotek is now 2-0 on the year, and has still yet to allow a run through his 8.1 innings of work. Last, but not least, outfielder Zach Martin saw the ball well for Maryland, hitting an even .300 on the week and scoring 2 runs. Martin is starting to heat up as he brings his average up to .263 on the season.
Sacred Heart: Owen MacDonnell continues his impressive freshman run with two more outings for Sacred Heart this past week. In his first outing against Yale, MacDonnell tossed 2 scoreless innings and sat down all 6 batters he faced. He came back for his second outing of the week in Game 2 of the series vs. FDU. This time MacDonnell went 3 innings and allowed 1 run on 4 hits, striking out 4 as well. MacDonnell now has a 4.86 ERA on the year and has struck out 21 batters over 16.2 innings of work.
UMass: Freshman lefty bat Will MacLean continued to tear the cover off the ball this past week for the Minutemen. Over his 19 at bats, MacLean batted .421 and drove in 6 runs while also coming around to score 8 times himself. He also launched his second home run of the season. MacLean is now hitting .382 on the year and has reached base safely in exactly half of his plate appearances this season.
Niagara: Shortstop Brady Desjardins put together a solid week offensively as he went 4-9 (.444) with 3 walks, 2 runs scored, and a stolen base. Desjardins is now hitting .230 on the year and has drawn 13 walks.
Division II
Assumption: LHP Shea Ryan put together yet another quality start for the Greyhounds over the weekend. Ryan went 6 innings against conference rival Franklin Pierce and allowed just 1 run while striking out 3 and picking up the W, moving his record to 3-1 on the year.
Saint Anselm: The Silver Knights arms at Saint Anselm showed out once again in NE10 play. Adam Betty got the ball in their matchup against Bentley. Betty went 7 innings allowing just 2 runs and striking out 4 on his way to picking up the win and moving his record to 2-3. Lefty Avery Mosseau added a save to his collection during the series, as he tossed the final 3 innings going 9 up, 9 down. Mosseau is now 1-0 with 2 saves and is currently sporting a 2.65 ERA.
Saint Thomas Aquinas: Andrew Jemison had an offensive outburst for STAC this past week. Over his 15 at bats, he hit an even .600 and scored 4 runs while also driving in 3. Jemison's average is now up to .320 on the year and he has driven in 17 runs while also scoring 17 runs himself.
Pace: Not to be outdone by his DII counterpart, Mitch McCabe also hit .600 on the week. McCabe notched 12 hits on the week including his third home run. He drove in 8 runs and came around to score 6 times. McCabe is officially on a tear, batting .380 with 8 of his 19 hits coming for extra bases.
Division III
Salve Regina: In a big conference week for the Seahawks, Brayden Clark got the ball in the matchup vs. Curry. Clark went 5 innings without allowing an earned run and struck out 4 batters while picking up the win to move to 2-0 on the year. He also lowed his season ERA to an incredible 1.07
Clark: The Cougars keep on rolling, as does Zach Gitschier. Gitch got the ball vs. St. Joseph's and went 1.2 innings while allowing his first run of the season. Despite the run, Gitschier still sports a 1.59 ERA and has still yet to walk a batter this season.
Colby: The Mules drew a 2-2 split on the week and outfielder Patrick McConnell continued to see the ball well. Batting .286 over his 21 at bats, McConnell drove in 5 runs while also swiping a bag. McConnell is now batting .304 on the year for Colby.
Make sure to follow all of our social media channels to keep up to date with your top performaing Silver Knights right up until first pitch of the summer season!