News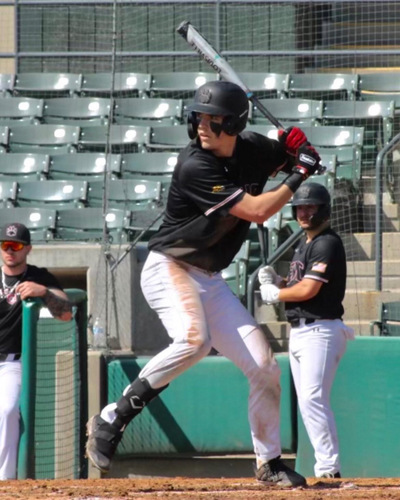 The 2022 Silver Knights continued to put up impressive numbers throughout their spring season. Here are this past week's standouts:
Division I
Merrimack: The Warriors got back on track last week as they went 3-1 including 2 conference wins over Sacred Heart. In game 1 of the Sacred Heart series, LT Pare came out of the bullpen to toss 1.2 scoreless innings and strike out a batter on his way to picking up his first win of the season. He came back later in the series to toss another inning out of the bullpen where he gave up 1 run and struck out 1. Pare is now 1-0 on the season.
Holy Cross: Holy Cross had themselves a 3-3 split on the week taking on various opponents. Trevor Neff saw action twice on the week, the first coming in the game against UMass. Neff tossed a scoreless inning in relief before coming back the next day to toss 1.2 innings against UMass-Lowell. Neff has now logged 11 innings of work in his freshman season for Holy Cross.
Maryland: For the first time this season, the Terps find themselves outside of the Nation's Top 25 rankings. They split the week 2-2 vs. UMBC and Dallas Baptist. Noah Mrotek saw action out of the bullpen as he tossed 1.2 scoreless innings in the series finale vs. Dallas Baptist. Mrotek has yet to give up a run this season, and has struck out 9 batters through 5.1 innings of work and opposing hitters are batting just .111 against them.
Sacred Heart: The Pioneers picked up a win this past week over conference opponent, Merrimack. Owen MacDonnell saw minimal action on the week as he was tasked with recording just 1 out in the game vs. Boston College, which he recorded via strikeout. MacDonnell currently sports a 6.17 era and has recorded 15 strikeouts through 11.2 innings of work.
Division II
Assumption: The Greyhounds had a big 3-1 series win over conference opponent Saint Anselm this past weekend. Helping lead the charge was lefty arm, and seasoned Silver Knight, Shea Ryan. Ryan tossed game 3 of the series and took control as he tossed a complete game shutout to earn himself, and his team, the win. Ryan scattered 6 hits and 6 strikeouts throughout his outing. Shea Ryan is now 2-1 on the season and has struck out 19 batters while walking just 4.
Saint Anselm: Matched up against Assumption this past weekend, two Silver Knight arms logged innings for Saint Anselm. Adam Betty got the ball to start Game 2 of the series. Betty went 5 innings and allowed 2 earned runs while striking out 2 batters in the loss. Lefty Avery Mosseau saw time on the mound in the series finale, tossing 2 scoreless innings to end the weekend series. Mosseau continues to put together an impressive season as his era currently sits at 3.21 and has struck out 20 batters through 14 innings.
Saint Thomas Aquinas: Infielder Andrew Jemison put together yet another impressive week, hitting .294 through 17 at bats. 3 was Jemison's number this past week, as he scored 3 runs, recorded 3 RBI, walked 3 times, and also stole 3 bases. Jemison is now batting .273 on the season and has driven in 14 runs.
Pace: Outfielder Mitch McCabe also didn't miss a step from his previous week's performance. McCabe hit an even .333 on the week and logged another homerun on the season. He also drove in 3 runs, came around to score 3 times himself, while also walking 4 times. McCabe brings his season average up over .300 and his on base percentage remains outstanding at .458.
Division III
Plymouth State: Plymouth had themselves an up and down week as they swept Fitchburg on Saturday before being swept by Saint Joe's on Sunday. LHP Noah Wachter saw bullpen time this past week, as he came on in the series finale vs. Saint Joe's. Wachter tossed 2.2 scoreless innings and struck out 6 in the short outing. Wachter has now recorded 25 punch outs on the season.
Salve Regina: The Seahawks had a big week going 3-1 including a 2-game sweep vs. conference opponent Gordon College. The week began in a non-conference game vs. Rhode Island College, where incoming Silver Knight Brayden Clark got the ball to start the game for Salve Regina. Clark continued his impressive start to the season as he went 5.1 innings and allowed 2 runs while striking out 3 on his way to his first W of the season. Clark is now 1-0 with a 1.33 era for the Seahawks. Not to be outshined was outfielder Matt D'Amato, who put together a monster offensive performance. D'Amato hit .471 over 17 at bats and launched his first homer of the season. D'Amato is hitting .346 on the season with a .453 on base percentage.
Worcester State: Woo state had a quick 2-game week, one of which Cole Glassburn took the mound for. In his start vs. Clark, Glassburn went 6 innings pitched, and scattered 4 hits without allowing a run. He also punched out 8 batters while picking up the Win. Glassburn moves to 2-1 on the season.
Clark: The Cougars had themselves a 2-2 split on the week in which Zach Gitschier saw two outings out of the bullpen. His first outing came in a save situation vs. Mass Maritime. Gitschier tossed a scoreless inning to close out the game and pick up his first save of the season. Zach would be called on again in the late innings vs. Worcester State. This time he went 2 scoreless innings and struck out 4 batters. Through his 4 innings of work this season, Gitschier has not allowed an earned run or a walk yet this season.
Anna Maria: James Powers keeps on hitting for the AMCATS, batting .533 this past week while racking up 7 RBIs. While showing off the power, Powers also displayed his speed as he stole 3 bases and came around to score 3 times himself. Powers keeps on raking to the tune of a .358 batting average and 15 RBI.
Amherst: Amherst dropped their 3 game this past week, and freshman infielder Jack McDermott logged a pair of hits through the 3-game set.
Colby: A surprising team in the DIII community so far this season, Colby is 9-1 on the season and is 2-1 vs. Top-25 opponents. Outfielder Patrick McConnell saw his first at bats of the season this past week, as he went 1-5 to kick of his sophomore campaign.
Eastern Nazarene: Shane McNamara can't stop hitting. After last week's stellar performance, McNamara hit .588 over his 17 at bats this past week. On top of his 10 hits, he notched his 3rd home run of the season, and drove in 9 runs over the 5 game stretch. McNamara is now hitting .397 on the year with 19 RBI and 12 of his 27 hits coming for extra bases.