News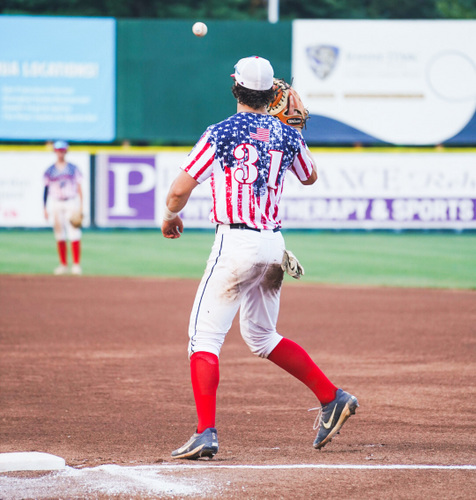 The Spring season rolls on as many teams begin to dip their toes in the ever so important conference play. It was an offensive explosion from Silver Knights hitters this week. Here are some of the incoming roster's highlights:
Division I
Merrimack - The Warriors dropped 3 of 4 this past week with their lone win coming against Hofstra. To kick off their week, they matched up with local opponent Northeastern. Returning Silver Knight LT Pare saw action out of the bullpen against the Huskies, tossing 1 inning and allowing 1 run on 2 hits and recording a punch out. Pare now has 7 strikeouts through as many innings of work.
Holy Cross - The Crusaders had another tough week taking on a slew of local opponents. Trevor Neff saw action twice over the week, with the first coming out of the 'pen against Boston College, where he tossed a clean inning and recorded a strikeout. Neff came back later in the week to pitch again in game 2 vs. Northeastern. There, he tossed 2/3 of an inning, where he allowed 2 hits, but no runs came across to score. Neff now posts a 5.40 ERA on the season.
Wake Forest - The Demon Deacons made some noise this past weekend as they took 2 of 3 games vs. #10 Georgia Tech, including a 27-7 blowout win in Game 2 of the series. In that series, Freshman Chris Katz continued to roll offensively. Off the bench as a pinch hitter, Katz went 1-2 with a walk and a run scored. Katz keeps on putting up numbers as he is now hitting .433 on the season with a .528 on base percentage and 8 runs scored.
Maryland - The Terps keep on moving up the Top 25 ranks as they enter this week up two spots from last week at #22 in the nation. After a little bit of a hiatus, Noah Mrotek found himself on the mound once again this season. Matched up against Siena, Mrotek tossed a scoreless inning in which he struck out the side. Mrotek has yet to allow a run this season, and struck out an astounding 8 batters through just 3.1 innings of work. Opponents are batting just .154 against him.
UMass - Welcome to the show Will MacLean. The Minutemen took 2 of 3 vs. Fairleigh Dickinson and in the series, MacLean went 4-6 with 3 runs, 3 RBI, 2 walks and launched his first homerun of his college career. MacLean has kicked off his college campaign hitting .500 through 8 official at bats with a .583 OBP.
Division II
Saint Thomas Aquinas - Andrew Jemison was One of the two Division II Silver Knight hitters to put up great numbers this past week. Through 16 at bats, Jemison hit .438 with 2 runs scored, 5 RBI and a stolen base. Jemison is currently batting .268 on the season with 11 RBI.
Pace - Back in action after missing a few games was veteran outfielder, Mitch McCabe. McCabe wasted no time getting back in the swing of things for Pace. He hit .353 through 17 at bats and scored 5 runs, drove in 4 runs, stole 3 bases, and logged his first homer of the season. McCabe brings his average up to .292 on his return with a .438 OBP.
Division III
Nichols - The Bison had a bounce back week as they took 3 of 4 on the week. Sean Ryan got the start in the game vs. Messiah. Ryan went 8.1 innings and allowed 4 runs on 6 hits and struck out 8 batters on his way to his first collegiate win. Ryan currently sports a 5.25 ERA and has struck out 12 batters through as many innings of work.
Salve Regina - Salve posted a split on their 4 game week down in Florida. In the loss vs. TCNJ, Brayden Clark continued his stellar start to the season as he got the ball to start the game. Clark tossed 3 innings of scoreless baseball, allowing just 1 hit and striking out 3. Outfielder Matt D'Amato saw plenty of action on the trip, as he hit .313 through 16 at bats and scored 2 runs while also swiping 2 bags. Both players continue to post great numbers as Clark's ERA has now been lowered to 0.60 and D'Amato brings his average up to .286 with 6 stolen bases on the year.
Anna Maria - The AMCATS had a big week as they got back on track with a 4-1 record on the week. James Powers continued to produce as he hit .235 through 17 at bats and knocked in 3 runs while coming around to score 3 times himself. He also recorded his fourth double of the season. Powers is batting .308 with an even .400 OBP, he has scored 13 runs this season.
Eastern Nazarene - ENC had a winning week going 3-2 and Shane McNamara built on his incredible performance the week prior. McNamara hit .368 over 19 at bats and scored 8 runs while driving in 7 runs himself. He also blasted his second homerun of the season. McNamara continues to rake to the tune of a .333 batting average with a .424 on base percentage.
Keep up to date with your top performing Silver Knights right up until first pitch of this Summer's season!