News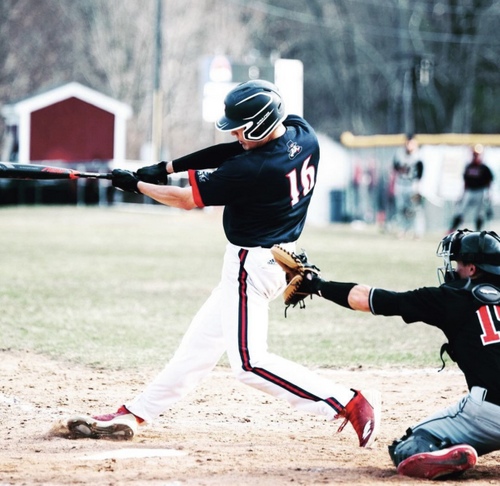 Division I
Wake Forest – The Demon Deacons hit their first speed bump of the season as they dropped 2 of 3 games to #8 Florida State. They also split their mid-week games 1-1, losing to Coastal Carolina before coming back to beat George Mason. Throughout the week, Chris Katz continued on his tear hitting .364 through 11 at bats. He also logged 3 runs, 2 RBI, a double, and was hit by 2 pitches. Katz continues to tear the cover off the ball, as he is now hitting .429 on the season, with an astonishing .515 on base percentage.
Niagara – It was a rain filled week(end) for the Purple Eagles, as they were only able to play one game this past week. In the win over Bucknell, shortstop Brady Desjardins went 1-4 with an RBI double, and drew a walk. Desjardins currently posts a .366 OBP on the year.
Merrimack – Merrimack also saw a shortened week, as they took an unconventional split vs. Marshall. They lost game 1 before tying the Thundering Herd in the second and final game of the series. Returning Silver Knight LT Pare took the mound in a relief effort in game 1 of the series. He went 1.1 innings, allowing 1 run on 3 hits and striking out 2 batters.
#24 Maryland – The Terps keep on rolling as they went a perfect 4-0 on the week, and moved their overall record to 13-2 and remain in the nation's Top 25 rankings. Converted pitcher Matt Orlando saw a lot of action out of the bullpen this past week. In game 1 vs. VCU, Orlando picked up his first win of the season while tossing a scoreless inning for the Terps. He saw action once again against Georgetown, this time tossing 2 innings, allowing his first earned run of the season, and striking out 3 batters. His final outing of the week came against Cornell, where he threw 2 innings, this time going 6 up, 6 down and punching out 1 of those batters. In his first season as a pitcher, Orlando is currently 1-0 with a 1.42 ERA and opponents are batting just .164 against him.
Sacred Heart – In their sweep by Florida Atlantic this weekend, Owen MacDonnell saw two relief outings out of the bullpen. The first came in Game 2 of the series, where he tossed 2/3 of an innings and struck out 1 without allowing a run. He came back in the series finale, where he went 1.2 innings and allowed 1 run on 2 hits and struck out 2 batters. MacDonnell currently sports a 4.22 ERA and has struck out 13 batters through his 10.2 innings of work.
Division II
Stonehill – Lefty Matt Tyman saw a ton of action for Stonehill this past week, coming out of the bullpen on four separate occasions. In his first outing, he took the hard luck loss as he went just 1/3 of an innings and allowed 1 run on no hits. Tyman bounced back in his second outing, going 3 innings and allowing 1 run on 2 hits. He picked up the W against Bloomfield. In outing #3, Tyman had a short job to do, as he tossed 2/3 of an innings without allowing a run. In his final outing of the week, Tyman took the L against Caldwell, allowing 5 runs through 1.1 innings of work while striking out 3 batters.
Saint Anselm – The Hawks posted a huge week as they took Dominican for a clean 4-game sweep. Game 2 of this series featured solely Silver Knight pitching as Adam Betty drew the start of Saint Anselm. Betty went 6.1 innings and scattered 9 hits while allowing 4 earned runs and striking out 6. Closer Avery Mosseau came in to continue his strong season and close out the game as he went 2.2 innings and struck out 5 without allowing a run. Mosseau picked up the W on the game and moved to 1-0 on the season. Mosseau also currently sports an impressive 0.82 ERA and has struck out 19 batters through 11 innings.
Division III
Eastern Nazarene – Shane McNamara had himself a huge week for ENC. McNamara hit .375 through 16 at bats and logged 2 home runs, 5 RBI, and drew 3 walks while recording a stolen base. McNamara is now hitting .361 on the year with a .439 OBP.
Anna Maria – James Powers had himself a solid week as he went 5-21 at the plate and drove in 2 runs while coming around to score 5 times himself. Powers continues his strong offensive season as he now is batting .343 and has scored 10 runs in 9 games for the AMCATS.
Amherst – Kicking off their season this past weekend, Amherst took a 1-1 split. In those 2 games, Jack McDermott wasted no time kicking things off as he went 3-4 with 2 doubles, 2 RBI and a run scored in game 1. He drove in a second run in game 2 of their opening weekend. McDermott posts a .375 average and .500 on base percentage in Amherst's young season.
Occidental – In a tough week for Oxy, both Caleb McGrath and Austin Twiss saw time on the mound. In McGrath's first relief appearance, he went 1.2 innings without allowing a run, and struck out 3 batters. McGrath would come back the next game out of the pen to toss another 2/3 of an innings and allowed 2 runs before Austin Twiss came on in relief to record the final out via strikeout. On the season, McGrath has struck out 9 batters in his 8.2 innings of work.
Clark – It was a big opening week for the Cougars as they got off to a quick 4-1 start. Returning Silver Knight Zach Gitschier logged an inning on the mound vs Clarks Summit where he did not allow an earned run. Gitschier also registered 4 hits as an outfielder for the Cougars to post a .500 batting average to begin the season.
Salve Regina – The Seahawks dropped 2 of their 3 games this past week, but starter Brayden Clark posted another great outing for Salve Regina. In the loss vs. Saint John Fisher, Clark tossed 6 innings and struck out 7 batters, with the only run allowed coming via a solo home run. Outfielder Matt D'Amato started every game for Salve Regina and over the 3 game stretch he went 2-9, with a run, 4 walks, and a stolen base. Through his first two starts, Clark has a tremendous ERA of 0.75 and has struck out 16 batters through 12 innings. D'Amato is currently hitting .263 with an OBP of .462 to accompany his 4 stolen bases.
Plymouth State – PSU had a lengthy split on the week as they went 3-3 taking on various opponents. Noah Wachter saw action twice on the week, the first coming in the opener against Bluffton. Wachter picked up the save recording the final two outs of the game without allowing a run. He got the ball again later in the week vs. St. Elizabeth and took the loss in a 3 inning effort where he allowed 2 runs on 1 hit. Bobby Cliché drew the start in the week's finale taking on Thiel. Cliché picked up the W going 5 innings while allowing 4 runs on 7 hits and striking out 4 batters. Cliché moves to 1-2 on the season, while Wachter picks up his 2nd save of the season and sports a 1.15 WHIP.
The spring season is officially in full swing! Stay tuned for more Silver Knight updates throughout the NCAA season as we get closer and closer to another Silver Knight summer!