News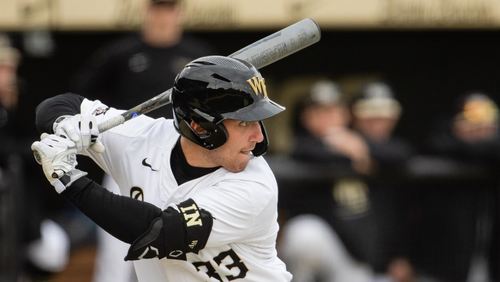 As more and more teams begin their 2022 campaigns, more and more Silver Knights have begun showcasing the talent we will be seeing all summer long. Here are the top Silver Knight performances in Week 2:
Division I
Wake Forest - Not surprisingly, Wake Forest is off to an incredible start to the season. Now a perfect 8-0 on the season, the Demon Deacons are seeing great performances across their entire roster. Chris Katz put together an impressive week, as he hit .500 throughout the week (5-10), while driving in 2 runs and coming across to score 2 times himself. Primarily a catcher, Katz saw himself getting time at First Base, Left Field, and also as the DH. Katz has brought his season average up to .545 and his OBP up to a whopping .643. Will Andrews also saw himself get some time on the mound again this week. In the series finale against NJIT, Andrews entered the game in the top of the 8th and struck out 1 batter while allowing 1 hit and no runs. Through his 2 outings in this young season, Andrews has still yet to allow a run or a walk to opposing batters.
Maryland - Another team off to a very hot start to the season, the Maryland Terrapins find themselves undefeated at 7-0. They also find themselves at #21 in the NCAA Top 25 rankings. Incoming Silver Knight Noah Mrotek has found himself a role as a go-to guy out of the bullpen for the Terps. His first outing of the week came against UMBC. In the top of the 9th, Mrotek was called upon to get the final two outs of the inning. He faced 3 batters, striking out 2 and walking 1 while getting out of the inning to preserve the tie. Maryland went on the walk it off in the bottom of the 9th, giving Mrotek his first win of the season. Mrotek's week wasn't yet finished as he saw action in the 8th inning of Game 1 in their series against Campbell. Mrotek has also yet to allow a run this season, and opponents are batting just .111 against him. A familiar name to Silver Knights fans also saw action this weekend, but not in the spot you'd imagine. Matt Orlando, who played some corner infield spots for the Knights last summer, saw action on the mound out of the bullpen. Orlando tossed 0.2 innings in his relief effort, striking out 1 and not allowing a run.
Sacred Heart - The Pioneers have yet to record their first W of the season, but pitcher Owen MacDonnell has been quite the bright spot for Sacred Heart. In their season opener against Fordham, MacDonnell came out in relief and faced 11 batters, allowed 2 hits and 2 runs while striking out 3. He got his second outing of the year in the series finale versus Richmond. He once again entered the game in the 5th inning, and faced 13 batters while allowing 2 runs on 2 hits and striking out 3. MacDonnell currently sports a 6.75 ERA through his first 2 outings at Sacred Heart.
Merrimack - The Warriors began their season with a 2-2 split on the weekend. Returning member of the Silver Knights, LT Pare, got his first action of the season in a relief appearance against St. Bonaventure. He threw 1 inning out of the pen, and did not allow a run while recording his first punch out of the season.
Niagara - Brady Desjardins was back in action for Niagara in their 4-game set against UNC-Asheville. On the weekend, Brady hit .250 and recorded 2 walks. He also recorded his first stolen base of the season.
Northeastern - Fan favorite, Greg Bozzo, got his first playing time of the season for the Huskies. In their match against Merrimack, Bozzo went 1-3 with 2 RBI in the win over the Warriors. Bozzo is currently sporting a .333 OBP to start the season.
Division II
Stonehill - Stonehill headed down to Myrtle Beach, SC to start their 2022 campaign. Wasting no time getting to work was left-handed pitcher Matt Tyman. In game 2 against Molloy, he tossed a scoreless inning out of the bullpen while striking out 2 batters. He took the mound once again against St. Thomas Aquinas later in the week. In that outing, he went 3 innings and allowed 1 run on 2 hits. Tyman has a 2.25 ERA to begin the season for Stonehill.
St. Thomas Aquinas - Coming off a stellar 2021 season, STAC looked to start 2022 picking up where they left off. Infielder, and incoming Silver Knight, Andrew Jemison got the memo as he notched 5 hits and 3 RBI over their first 4 games. Jemison wraps up week 1 of their season with a .313 batting average and a .368 OBP.
Saint Anselm - Avery Mosseau picked up right where he left off last week, tossing 3.1 innings out of the bullpen against Adelphi. He allowed 1 run on 2 hits, bringing his season ERA to an impressive 1.69. He has recorded 7 strikeouts over his 5.1 innings of work.
Pace - Pace had a quick 2-game set against Philadelphia University of the Sciences and West Chester University to begin their season. Outfielder Mitch McCabe recorded his first base hit of the season on the weekend, while also drawing 3 walks over the 2 game. Mitch sports a .455 on base percentage in the early stages of the season.
Division III
Occidental - Oxy continued their season with a big 3-game sweep of Whittier College. Caleb McGrath saw action in game 2 of the series, tossing 1.1 innings and allowing 0 runs on 1 hit. He recorded his third punch out of the season, while lowering his season ERA to 6.75.
Stay tuned for more updates and highlights of your Silver Knights throughout the spring season!