News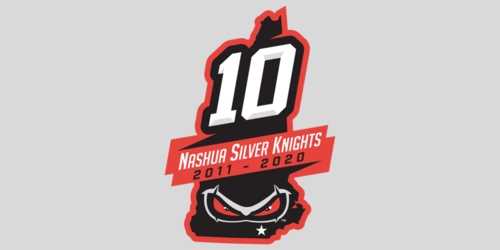 October 16, 2019
Contact: Cam Cook, General Manager, [email protected], 603-718-8883
Silver Knights Release 10th Anniversary Logo
Celebrating Ten Years in Nashua
[NASHUA, NH] With nine seasons under their belts, the Nashua Silver Knights have released a 10th Anniversary logo for the 2020 season. The new look will be integrated into the team's social media platforms, communications, and merchandise. The anniversary logo is a visual reminder of the Silver Knights' accomplishments since the team's inception in 2011.
The Nashua Silver Knights are the final remaining founding franchise in the Futures League and have much to celebrate. Most notably, the Knights have the most championships in the league with four outright titles from 2011, 2012, 2016, and 2017. There is also a litany of individual player success in the team's history. These accolades include 3 Commissioner's Award-winners, over 30 All-FCBL team honorees, 22 MLB Draft picks, and numerous All-Star selections. Furthermore, Silver Knights players hold 6 single-season records and 11 FCBL individual career records*.
Over the Silver Knights' history, the team has used various logos including a helmeted knight head and the team's fierce red eyes of the knight. The fierce eyes logo has been incorporated into the 10th Anniversary logo set at the base of the outline of the state of New Hampshire. Below the eyes is a star indicating the location of Historic Holman Stadium and the Gate City as the home of the Knights. Consistent with the red, silver and black color scheme of previous logos, the commemorative logo highlights the organization's pride in being the first Futures League franchise to reach this tenth-season milestone.
"I'm excited to be part of the 10th Anniversary season," General Manager Cam Cook said. "It's important to not only celebrate the last 10 years of Silver Knights baseball, but the continued success and future of baseball in Nashua. The best is yet to come."
The Nashua Silver Knights hope the unveiling of the 10th Anniversary logo raises excitement for the 2020 season. Look out for more updates – like new merchandise at Holman Stadium and in the online store – as the team continues to prepare for the Silver Knights' 10th Anniversary season.
Commissioner's Award
Manny Cabral, Texas Southern (2013)

Matt Mottola, UMass Lowell (2014)

Ryan Sullivan, Southern New Hampshire (2017)
MLB Draft Picks
Andrew Chin, Boston College, New York Yankees (2012)

Chris Shaw, Boston College, San Francisco Giants (2012)

Michael Pierson, Appalachian State, Los Angeles Angels of Anaheim (2014)

Donnie Cimino, Wesleyan, Chicago Cubs (2014)

Matty Foley, Rhode Island College, Florida Marlins (2015)

Timothy Viehoff, Southern New Hampshire, Seattle Mariners (2014)

Manny Cruz, Southern New Hampshire, Cincinnati Reds (2015)

Dante Baldelli, Boston College, Philadelphia Phillies (2016)

Erik Ostberg, University of Hartford, Tampa Bay Rays (2015)

Adam Stauffer, Coatesville (HS), Baltimore Orioles (2017)

Johnny Adams, Boston College, Seattle Mariners (2013)

Ben Bengtson, University of Hartford, Pittsburgh Pirates (2015)

Drew Fisher, Amherst College, Pittsburgh Pirates (2016)

Jake Nelson, University of Pennsylvania, Detroit Tigers (2016)

Kevin Magee, St. Johns, Baltimore Orioles (2015)

Charlie McConnell, Northeastern, Seattle Mariners (2016)

Seth Pinkerton, University of Hartford, Minnesota Twins (2016)

Mickey Gasper, Bryant, New York Yankees (2016)

Max Burt, Northeastern, New York Yankees (2015)

Gavin Hollowell, St. Johns, Colorado Rockies (2016)

Sean Mooney, St. Johns, Minnesota Twins (2016)

Ryan Berardino, Bentley University, Boston Red Sox (2018)
Single Season League Records
AVG: Mickey Gasper (2016), Bryant, .421

Hits: Cam Cook (2017), Nichols College, 81

2B: Mickey Gasper (2016), Bryant, 21

OBP: Mickey Gasper (2016), Bryant, .532

OPS: Mickey Gasper (2016), Bryant, 1.257

Saves: Cody Rocha (2013), Assumption, 17
Individual Career League Records
Games: Ryan Sullivan (2013-2017), Southern New Hampshire, 185

At Bats: Ryan Sullivan (2013-2017), Southern New Hampshire, 682

AVG: Mickey Gasper (2016), Bryant, .421

Hits: Ryan Sullivan (2013-2017), Southern New Hampshire, 199

2B: Ryan Sullivan (2013-2017), Southern New Hampshire, 41

RBI: Ryan Sullivan (2013-2017), Southern New Hampshire, 145

Total Bases: Ryan Sullivan (2013-2017), Southern New Hampshire, 351

OBP: Mickey Gasper (2016), Bryant, .532

SLG: Mickey Gasper (2016), Bryant, .725

OPS: Mickey Gasper (2016), Bryant, 1.257

Saves: Cody Rocha (2013), Assumption, 17