News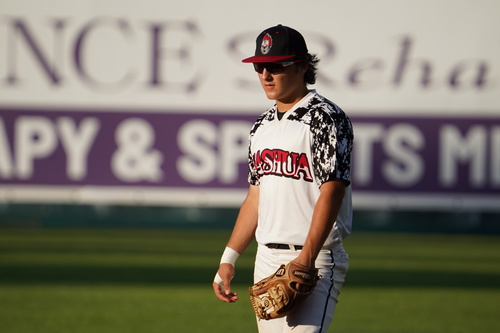 A brutal 12-0 game one loss sent Nashua's championship hopes down the mountain, with the series now flipping to Historic Holman Stadium. FCBL staff and company came to the 603 on Thursday, with the championship trophy in house with the possibility of Vermont celebrating their second straight title on Nashua's turf. As the clock hit 6:00, the next nine innings would decide the fate of the Silver Knights season.
With their pitching staff on the ropes, the Knights looked to Salem State's Brock Pare to step up as Nashua's game two starter. Vermont sent Rollins's Nick Berger to the mound, looking to secure the title clinching sweep. After the first pitch, things quickly went south for Pare and the Knights. Brock would not make it a full first inning, getting pulled after walking four and letting two score.
After Vermont's two run first frame, the Lake Monsters were back at it again in the third. Clark's Zach Gitschier came in after Pare to help eat some innings but would get into a sticky situation in his second inning of work. Wake Forest's Gio Cueto and Kansas's Cooper Kelly posted RBI singles in the third, giving them a 4-0 lead as they looked to pull away from Nashua once again.
Needing to chip away and chip away fast, the Knights got to work. Back-to-back singles in the fourth from Eastern Nazarene's Shane McNamara and UMass' Will MacLean set up runners on the corners with no outs. Holy Cross's Jack Toomey would bring McNamara home on a fielder's choice, giving Nashua their first run with the score now 4-1.
Holman's dedicated fans sparked a now fired up Knights dugout, showing signs of life unlike the night prior. McNamara would contribute once again in the sixth, doubling to bring home a run to push the score to 4-2. Cutting the lead one by one, the Knight's pivotal push would come in the seventh. Nashua manufactured a three-run inning, cashing in on two wild pitches to send runners home. In a blink of an eye, Nashua now had their first lead of the series.
Assumption's Alex Meesig would come up huge for Nashua, throwing four innings of shutout baseball with only one hit on four strikeouts. Heading into the ninth, Wake Forest's Will Andrews came back out after taking over for Meesig in the eighth. Nashua grew confident with only three outs between them and a tied series, but Vermont wasn't going away easily.
A leadoff double from Virginia's Harrison Didawick set Vermont up perfectly, with Didawick coming around to score on a tough infield single. Now tied at five, the momentum shifted back to the Lake Monsters. But with a man on first following the run, Andrews would hunker down and throw back-to-back strikeouts to keep the game tied. Holman's faithful got on their feet for the bottom of the ninth, hoping for another iconic walk off victory. Middlebury's George Goldstein took the bump for Vermont, looking to push the game to extras with his elite stuff.
Two quick outs by Nashua had everyone's minds thinking about the top of the tenth, but a single from Niagara's Brady Desjardins kept the inning alive. Colby's Brady O'Brien worked a walk in an intense at bat, taking ball four on a full count. Now with runners on first and second, all eyes turned to Amherst's Jack McDermott.
McDermott, in his biggest at bat of the season, striped a ball to deep right field. Vermont's right fielder scurried to the ball with Nashua and Vermont fans both holding their breaths, but the ball would find the warning track dirt before any glove could as Holman exploded into hysteria.
Nashua's rally kept their season alive, as their game two heroics now set them up for a winner takes all game three. Nashua's chase for their sixth championship and Vermont's hunt for back-to-back titles will collide in Burlington on Friday, with nine innings left to decide it all. Game three of the FCBL Championship Series is set for a 6:35 PM first pitch on Friday.