News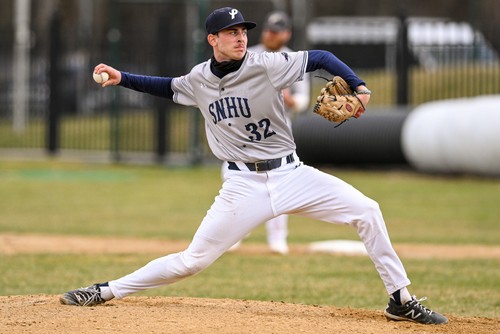 Some seasons have ended while others continue to push on with the goal of a conference championship. Here are last week's top Silver Knights in the NCAA:
Division I
Holy Cross: Trevor Neff has put together a tremendous freshman campaign. He added to it last week coming out of the bullpen to toss 2 innings with 2 strikeouts, while allowing an earned run. Neff sports a 4.73 ERA to accompany his 3-1 record. He has struck out 26 batters while walking just 9.
Wake Forest: Will Andrews continues his specialist work as he was asked to get just 1 out for the Demon Deacons this past weekend. Andrews got the job done without allowing a run, bringing his season ERA down to 3.00. He has still yet to walk a batter this season.
Maryland: The powerful Terps find offense at every turn. This time it was outfielder Zach Martin who went 1-2 with a solo homer, the first of his career. Martin is batting .214 in his freshman campaign with a .378 OBP. Freshman pitcher Noah Mrotek had an up and down weekend. In his first outing, Mrotek was stellar. He went 1.1 innings without allowing a run on his way to picking up the W. Mrotek would come back later in the weekend to toss an inning where he allowed 3 runs and picked up the L. Mrotek is now 3-1 on the season.
Sacred Heart: Another impressive freshman, Owen MacDonnell, put up a great outing out of the bullpen for Sacred Heart. MacDonnell earned his first save of the season by tossing 1.1 scoreless innings. MacDonnell posts a 5.14 ERA and has logged 28 innings in his first collegiate season.
Merrimack: LT Pare had a lengthy relief appearance this past weekend for the Warriors. Pare went 4 innings allowing 2 runs on 3 hits and striking out 2. Pare remains a perfect 2-0 on the season.
UMass: Returning Silver Knight Will MacLean continues to see the ball well for the Minutemen. MacLean batted .300 last week with 2 runs scored, 4 RBI, 3 walks, a stolen base, and hit his fifth home run of the year. MacLean, in his freshman season, is batting .315 with 31 RBI and 13 extra base hits.
Niagara: Shortstop Brady Desjardins continues to find his groove. Brady hit .278 for Niagara on the week and drove in 2 runs while coming around to score once himself. Desjardins is up to batting .233 on the season.
Division II
Assumption: Lefty Shea Ryan got the start against SNHU this past weekend. He went 5 innings, allowing 3 runs and striking out 6 batters while picking up the loss. Shea is now 4-3 on the year.
SNHU: In his start vs. Silver Knights teammate Shea Ryan, Josh Roberge was incredible. Roberge went 7 innings, allowing just 1 run on 5 hits and struck out 14 Greyhounds. Roberge is now 7-3 with a 3.64 ERA. He has struck out 77 batters this season.
Saint Thomas Aquinas: Andrew Jemison continues to swing the bat with consistency, batting .300 last week with 3 runs scored, 2 RBI, and 2 walks. Jemison heads into the postseason with a .326 batting average, 36 RBI, and a .440 on base percentage.
Pace: Seeing their season come to an end this past week was Pace University. However, outfielder Mitch McCabe wasn't going down without a fight. McCabe logged 5 hits, one of which was his eleventh home run of the season. McCabe will come to Nashua this summer fresh off a season where he hit .359 with 41 runs scored, 9 doubles, 2 triples, 11 home runs, and 31 RBI.
Saint Anselm: Silver Knights arms put together another solid performance for the Hawks this past weekend. Adam Betty got the ball for an abbreviated start on the mound. He went 2 scoreless innings, allowing just 1 hit. Avery Mosseau got the ball in a relief effort later in the series. Mosseau picked up a win for his team by going 1.1 scoreless innings out of the pen. Mosseau heads into the NE10 postseason with a 2-2 record with 3 saves.
Division III
Plymouth State: Bobby Cliche has stepped up as the #1 starter for PSU in the late season. He got the ball in Game 1 this past weekend, tossing 8 innings and allowing 4 earned runs while striking out 9. Cliche is posting a 5.71 ERA with 58 strikeouts. Tyler Wright also got some action this past weekend, tossing a scoreless inning out of the bullpen where he struck out the side.
Salve Regina: The Seahawks are primed for the postseason following a series sweep of conference rival Endicott. Brayden Clark got the ball out of the bullpen in Game 1 and went 3 scoreless innings striking out 3 batters while picking up the win. He moves to 6-1 on the year and sports an impressive 2.73 ERA. His Nashua counterpart, Matt D'Amato, put together a stellar week as well. D'Amato hit .500 over his 14 at bats while scoring 7 runs and driving in 2 more. D'Amato is batting .319 this season with 14 extra base hits and an OBP of .430.
Anna Maria: The AMCATS saw their fantastic season come to a close this weekend. James Powers capped off another impressive year by batting .333 with 2 RBI in the final stretch. He brings to Nashua a .357 batting average accompanied by 34 runs, 10 doubles, 25 RBI, 13 stolen bases, and a .449 on base percentage.
Amherst: Winning their first postseason series this past weekend was Amherst. Jack McDermott only had 1 hit in the series, but it was a grand slam. He finished the best of 3 series with 6 RBI. McDermott is now hitting .283 with 11 extra base hits and 25 RBI.
Colby: Another team who won their first playoff series, Patrick McConnell helped his team advance with 2 hits, a run and an RBI. McConnell is batting .295 with 15 RBI on the season.
Eastern Nazarene: ENC's season ended this past weekend. In the finale, Shane McNamara logged 3 hits, 2 runs, 3 RBI and launched his sixth home run of the season. McNamara will return to Nashua this summer following a season in which he posted a .314 average along with 33 runs scored, 10 doubles, 4 triples, 6 homers, and 33 RBI.
Stay tuned for next week's final Spring recap. The Silver Knights season will begin at 6pm on May 26 as the Pittsfield Suns will come to Historic Holman Stadium to kick off the 2022 season.