News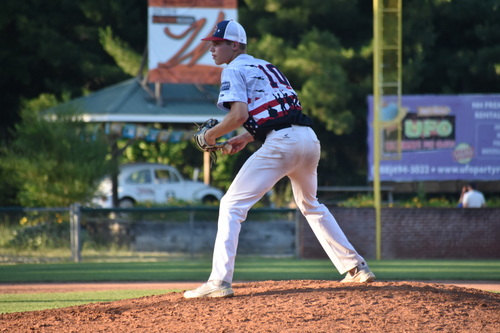 Following a brutal loss against Vermont, the Silver Knights looked to bounce back against the Westfield Starfires to avoid their third straight loss. Salem State's Brock Pare, making his first appearance in ten days, got the start to try and help Nashua get back on track. Westfield State's Ryan Donahue got his fourth start of the year for Westfield, searching for his third win. In a lackluster night for the red and black, the Knights lost 3-1 against the Starfires.
In the top of the first, the Starfires got to business early with Seton Hall's Patrick D'Amico singling to center to bring home the first run of the ballgame. In the bottom of the frame, Boston College's Kyle Wolff responded with a RBI single to tie up the game 1-1.
Both pitchers locked down for the following two innings until the Starfires pinned Pare into some trouble with the bases loaded and no outs. Working his way out of the jam, a passed ball brought a second Westfield run home to make it 2-1.
A deadlock between the two teams had both lineups struggling for production. Assumption's Shea Ryan relieved Pare and delivered, striking out three in two scoreless innings. In a form of "deja vu", the Knights once again could not get runs across with people aboard.
In the top of the seventh, the Starfires were able to get some insurance with a RBI sacrifice fly by Skidmore's Jackson Hornung to stretch the Westfield lead to 3-1. Hornung produced his 29th RBI of the season, leading the FCBL in RBI and HRs. Now down two, the Silver Knights offense needed to wake up to get back into it.
In the bottom of the eighth, Northeastern's Carmelo Musacchia turned on the wheels to beat out a grounder to get aboard with one out. Wolff followed Melo with his second hit of the ballgame, pushing a runner into scoring position. Hopes started to rise inside Holman with Wake Forest's Chris Katz pinch hitting. Looking to get a run on the board, a double steal by the Silver Knights included a bang bang play at third involving Musacchia. Just like the game prior, a questionable out call at third took the wind out of the Silver Knights sails. Going from two runners on with one out to one on base and two outs, the rally was silenced, and the Knights stayed stuck at one run.
An underwhelming ninth inning finished off the Silver Knights night with Westfield taking the victory 3-1. In a common trend lately for Nashua, the lineup could not generate enough runs to get the job done.
Nashua will look to end their weekend on a high note, facing off against the Norwich Sea Unicorns at 3:00 PM Sunday. Westfield will head back to MA for their Sunday matchup, visiting the Pittsfield Suns for a 4:05 PM first pitch.