News
FCBL Announces Abbreviated 2020 Schedule
[NASHUA, NH] The Futures Collegiate Baseball League of New England announced the dates and start times for its abbreviated 2020 regular season. The Silver Knights' tenth season will open at Holman Stadium on Thursday, July 2, 2020.
The Silver Knights will host the North Shore Navigators in their home season opener, a rematch of last season's first-round playoff game. The 2020 Futures League will include six teams: the Brockton Rox, New Britain Bees, North Shore Navigators, Westfield Starfires, Worcester Bravehearts, and the Nashua Silver Knights. The Pittsfield Suns will not operate in 2020 but are working on bringing baseball back to Wahconah Park next summer.
The Silver Knights' regular season features 39 games, with 21 home and 18 away. All Silver Knights games Monday through Saturday will begin at 6:00 p.m. with Sunday games starting at 3:00 p.m. There will also be one matinée game in Nashua on July 28 at 11:00 a.m.
Immediately following the regular season, the top two teams in the standings will play a best-of-three series to decide the league champion. The league will not use the two-half, 56-game structure that was originally announced last October.
"We're extremely excited to be playing baseball not only for the fans here in Nashua, but also to help these young players develop their craft and gain some exposure," said General Manager Cam Cook. "However, our number one priority through the entire season will be to keep everyone within Holman Stadium safe and healthy while enjoying a game."
The Silver Knights, in partnership with the City of Nashua, developed a comprehensive COVID-19 Readiness Plan and will implement several new operating procedures to keep fans, players, and staff members safe and healthy this summer. The complete COVID-19 Readiness Plan is available under "Holman Stadium" at www.NashuaSilverKnights.com.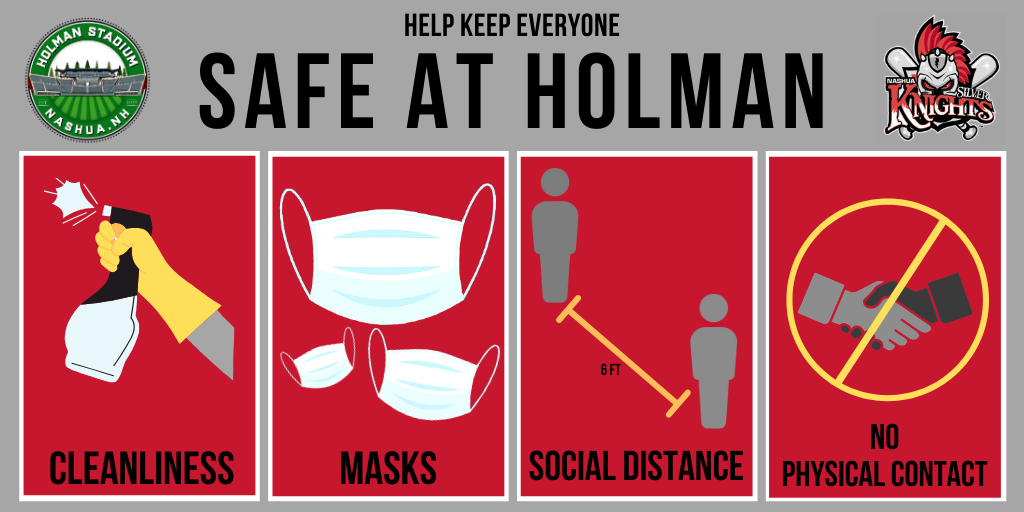 Season tickets and single-game tickets are now on sale by calling the Silver Knights office at 603-718-8883. Be sure to follow social media to stay up-to-date on all Silver Knights news and happenings.
###
About the Nashua Silver Knights Baseball Club:
The Silver Knights Baseball Club is entering its tenth season as a franchise in the Futures Collegiate Baseball League (FCBL) and play at Historic Holman Stadium in Nashua, NH. The Silver Knights were a founding franchise of the FCBL and have won the league championship four times in: 2011, 2012, 2016 & 2017. The Silver Knights baseball franchise is owned and operated by the Creedon family, who also own and operate Creedon and Co., Inc., a catering and tent rental company serving New Hampshire and Massachusetts. For more information about Creedon and Co., Inc., see www.CreedonAndCo.com. For more information about the Silver Knights see www.NashuaSilverKnights.com.
###