News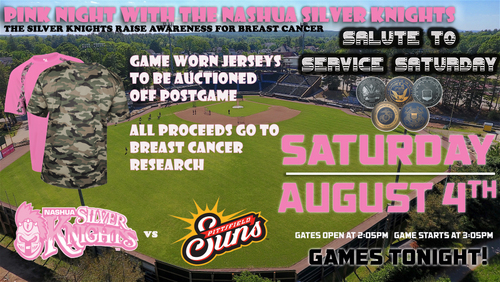 On Saturday, August 3rd, the Silver Knights will be celebrating our first ever Pink Night! The doubleheader against the Pittsfield Suns will start at 3:05 p.m. with gates opening at 2:05 p.m. Game two's probable start time is set for 6:05 p.m.
The Silver Knights will wear camoflauge jerseys for game one to celebrate Salute to Service sponsored by Bellavance Beverages. Game two will feature pink jeresys to bring awareness to breast cancer awareness. Both of the jerseys will be auctioned off in a silent auction throughout the day, with the jerseys being distributed after game two. Bids for both jerseys start at $50.
Along with the silent auction of jerseys, fans will also have the chance for all their memoribilia to be signed by this year's team after the game in celebration of fan apprecaition night.
For any questions call 603-718-8883 or visit www.nashuasilverknights.com for more information.
#RollKnights